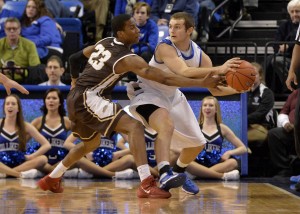 Courtesy of SLUBillikens.com
ST. LOUIS – Freshman Mike Crawford sparked a key second-half run with a pair of 3-pointers, and No. 24 Saint Louis held off a stubborn St. Bonaventure squad to post a 66-60 Atlantic 10 Conference victory Wednesday night at Chaifetz Arena.
The Billikens, who extended their winning streak to 10, improved to 16-2. It's the best start for Saint Louis since the 1993-94 Bills opened the season 19-1.
In addition, SLU is 3-0 in the A-10 for the first time in its nine years of membership. The last Saint Louis team to win its first three conference games was the 1989-90 Billiken squad (MCC).
St. Bonaventure, which lost 73-68 at No. 19 Massachusetts Jan. 11, fell to 11-6, 1-2.
Dwayne Evans was 8-of-12 from the field and scored a game-high 18 points. Jordair Jett added 15 for the Billikens, who shot 63.2 percent (12-of-19) from the floor in the second half after going just 11-of-34 (32.4 percent) in the first 20 minutes.
Rob Loe tied career highs with 11 rebounds (game high) and four assists (team high). Mike McCall Jr. grabbed seven rebounds, while Evans and Jett collected six boards apiece to help Saint Louis hand St. Bonaventure its largest rebounding deficit of the year (45-32). The Bonnies notched only six offensive caroms, eight fewer than their season average.
Matthew Wright led St. Bonaventure with 17 points, followed by Dion Wright (16) and Jordan Gathers (12). Chris Dees and Charlon Kloof had seven rebounds and a game-high seven assists, respectively.
"I knew it would be just a knockdown, drag-out, possession game with not much rhythm to the game," head coach Jim Crews said. "It's just how the game was going to be. Our competitiveness, our fight and staying with things when things weren't easy – I was really pleased and proud of our guys."
"I wouldn't say there's much pride in being ranked at all," Evans said. "It's a cool number next to our name when we play games. That's really about all it is. We've been here before. We knew we were going to have a target on our back, even if we weren't ranked, coming off of last year."
Leading by one at halftime, Saint Louis used Evans' three-point play, Jake Barnett's 3-pointer and an Evans layup to stretch the margin to seven, 36-29, just 2:12 into the second half.
St. Bonaventure chipped away, however, drawing to within two points on three occasions and to within a single tally once before taking a 47-45 lead on a Gathers trey at the 10:11 mark.
The Billikens responded immediately, pulling even on an Austin McBroom drive and regaining the lead on Crawford's first triple. A St. Bonaventure free throw cut the lead to 50-48 before SLU concluded a 12-1 spurt with Jett's jumper at the left elbow, Loe's layup and Crawford's second 3-pointer for a 57-48 edge with 7:07 to play.
St. Bonaventure, which began the second half shooting 8-of-12 but connected on just three of its final 16 attempts, drew to within five on two Gathers free throws and a bucket by Wright.
But the Bonnies failed to make it a one-possession game following a SLU turnover, and Jett expanded the lead to 62-54 with three free throws and a runner in the lane.
The Bonnies tallied the next three points to narrow the gap to five again. But Evans coaxed in a jumper from the foul line, and the Billiken defense held St. Bonaventure scoreless on three straight possessions to ice the victory.
Evans scored six of his 10 first-half points to help stake the Billikens to a 12-6 lead, but Wright tallied six of his own in a 10-2 spurt that put St. Bonaventure on top 16-14.
The score was tied four times after that before a Jett free throw gave Saint Louis the first-half lead for good, 23-22. Reggie Agbeko's strong drive down the lane and a John Manning free throw put the Bills in front 26-22.
Gathers and Jett traded fast-break layups before Gathers drained a 3-pointer just before the buzzer to trim SLU's lead to 28-27 at intermission.
The Billikens are back in action at Chaifetz Arena Saturday, Jan. 18, when Fordham comes to town for a 1:30 p.m. tip. The game will be shown on NBC Sports Network.