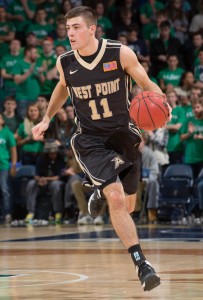 Courtesy of goARMYsports.com
ANNAPOLIS, Md.  – Army  (8-7, 4-0 PL) outscored Navy (6-9, 1-3 PL) 18-11 over the final 9:05, holding the Mids to just two field goals in that span to come away with a 60-55 win in Patriot League men's basketball action at Alumni Hall Saturday afternoon. The Black Knights have now won a season-high five straight games and seven of their last eight to extend their program record start to Patriot League play  and move above the .500 mark for the first time this season.
Army trailed 24-20 at halftime, but scored the first 12 points of the second half to take an eight-point lead with 16:51to go. The Mids answered with a 14-4 run to regain the lead and led 44-42 after a basket by Worth Smith. Army's Matt Gramling scored the next four points to give Army a 46-44 lead, but Smith tied the game at the line. A three-point play by Tanner Plomb with 6:13 on the clock started a 10-3 run that gave the Black Knights the lead for good.
Plomb led Army with 15 points and tied for the team lead with five rebounds. Kyle Wilson netted 12 points, all in the second half. He scored nine of Army's final 10 points, including a three-pointer to beat the shot clock that stretched Army's lead to 56-49 with 2:16 left in the game.  Gramling tallied a season-high nine points, while Dylan Cox dished out a game-high five assists.
Michel Brown was the only Navy player in double figures with 15 points on 6-for-8 shooting, including a pair of three-pointers. Kendall Knorr grabbed a game-high seven rebounds and led the Mids with four assists.
Army overcame a 7-for-25 first half to shoot 44.9 percent for the game. The Black Knights were 15-for-24 in the second half, taking only three shots from long range in the final 20 minutes. Army, which averaged more than 26 three-point tries per game entering Saturday, were just 2-for-1 1 from distance. The Black Knights outscored the Mids in the paint, 36-16.
The Army defense harassed the Mids into a 35.2 percent field goal percentage, including a 5-for-20 showing from three-point range. Army forced 12 turnovers, while committing only nine miscues.
The victory marked the first time Army has won three straight games in Annapolis since a five-game run between the 1964-65 and 1972-73 seasons.
Navy jumped out to a 7-0 lead as Army missed its first three shots and turned the ball over three times. Mo Williams ended Army's five-minute, 14-second scoring drought with a three-point play that jumpstarted a 12-1 run. Travis Rollo scored back-to-back baskets to give Army a 12-8 lead with 10:40 to go in the half. The Mids answered with a 14-5 spurt to take a 22-17 lead with 2:21 left and led by four at the break.
Army came out of the locker room  with 12 straight points to take their largest lead of the game at 32-24 with 16:51 to go. Plomb and Kevin Ferguson each scored four points during the run. The Mids stopped the momentum with a three-pointer by Knorr at the 16:04 mark. Army led 34-29 when Brown and Brandon Venturini combined to make three-straight triples as part of a 14-4 spurt that put the Mids back on top by two with 13:17 left.
The teams exchanged baskets until Gramling tied the game at 44-44 and then put Army on top with two free throws. Navy tied the game one more time before Plomb's three-point play gave Army the lead for good.
Army made just enough free throws, connecting on four of its six attempts in the final 31 seconds. Wilson's free throws with 31 seconds remaining gave Army an eight-point lead, matching the Black Knights' largest of the game.
Army opens a two-game homestand on Wednesday night versus Holy Cross. Tip-off versus the Crusaders is set for 7 p.m. The Black Knights swept the season series for the first time last year
Game Notes: Dylan Cox made his team-leading 46th consecutive start … the victory was Zach Spiker's 61st at West Point, putting him sixth on Army's all-time wins list … Spiker is the first Army coach to win at least 60 games in their first five seasons since Les Wothke won 61 from 1982-87 … Spiker is now one of three Army coaches to defeat Navy five times (5-4) … Bobby Knight was 6-0, while Jim Crews was 6-8 … Tanner Plomb has reached double figures in six of the last eight games, including all four Patriot League games … Saturday marked Army's first win when trailing at the half this season … Army has won nine of its last 10 Patriot League regular-season games … Army's 60 points matched a season-low and were the fewest in a win since their last trip to Annapolis (56-55) … the annual "Star" Game versus Navy will be played Feb. 8 at Christl Arena.