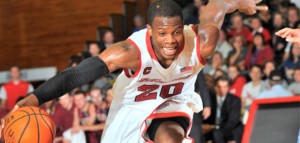 Courtesy of GoRedFoxes.com
POUGHKEEPSIE, N.Y. — The Marist men's basketball team won its fourth straight game on Thursday by defeating Fairfield at McCann Arena by a score of 75-56 in a Metro Atlantic Athletic Conference (MAAC) game.
Balanced scoring once again propelled the Red Foxes, as there were four double-digit scorers. Red-shirt freshman guard Khallid Hart (Newark, Del.) led the way with 15 points to go along with four rebounds, three assists and three steals. Senior forward Jay Bowie (Tampa, Fla.) contributed 14 points and eight rebounds on 6-for-9 shooting. Junior swingman Chavaughn Lewis (Queens, N.Y.) scored 14 points, and went 10-for-11 from the free-throw line. Junior forward Manny Thomas (Brooklyn, N.Y.) scored 10 points in 18 minutes off the bench, going 8-for-8 from the free-throw line.
Senior center Adam Kemp (Sherrill, N.Y.) had six points to go along with a team-high nine rebounds and a career-high four assists.
As a team, Marist went 32-for-40 (.800) from the line, including a 25-for-29 (.862) performance in the second half.
Marist led wire-to-wire. A three-pointer by Hart at the 18:20 mark of the first half opened the scoring, and the Red Foxes' scored the game's 13 points. Fairfield was held scoreless until a three-point play by K.J. Rose eight-and-a-half minutes into the contest. Although that play started the Stags on 8-0 run, they never climbed closer than five points the rest of the way.
Marist led 29-19 at halftime. The Red Foxes never led by less than six in the second half, and had an advantage as large as 22 points.
Sean Grennan led Fairfield with 14 points in 16 minutes off the bench, which included four three-pointers. Coleman Johnson added 11 points and six rebounds. Marcus Gilbert, who entered the game as Fairfield's leading scorer, had 10 points, six rebounds, three assists and two steals. The Red Foxes held Maurice Barrow, Fairfield's second-leading scorer, scoreless in 17 minutes.
Marist is now 4-9 overall and 1-2 in the MAAC; Fairfield is 3-10 overall and 0-3 in the MAAC.
Marist will close out its four-game homestand on Monday against MAAC foe Canisius. Tip-off is set for 7 p.m.Tickets are available for sale on GoRedFoxes.com. For further information, contact the Marist Ticket Office at(845) 575-3553.
Notes: Fans who purchased tickets to tonight's game may redeem them for a free ticket for Monday night's game. … This is Marist's longest winning streak since a pair of five-game runs in the 2007-08 season. … The Red Foxes have had four double-digit scorers in five of their last seven games. … Thomas' eight made free throws were a career high. … Lewis, who is shooting .880 (44-for-50) from the free-throw line in his last eight games, moved up to 15th place on Marist's all-time scoring list. He now has 1,194 career points.
-GoRedFoxes.com-