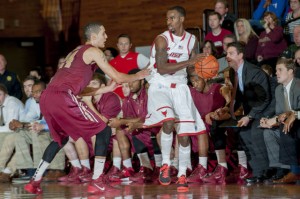 Courtesy of GoRedFoxes.com
POUGHKEEPSIE, N.Y. — The Marist men's basketball team won its third straight game on Sunday, as the Red Foxes defeated Ivy League foe Penn 76-62 at McCann Arena on Sunday.
The Red Foxes were propelled by a hot-shooting first half, in which they shot 8-for-13 from three-point range and took a 47-24 lead into the locker room. This surge was due in large part to the contributions of junior forward Manny Thomas (Brooklyn, N.Y.), who drained four three-pointers in a span of just over six minutes.
Red-shirt freshman Khallid Hart (Newark, Del.) tied his career high with 21 points. Senior center Adam Kemp(Sherrill, N.Y.) had 12 points, 13 rebounds and five blocks. His rebound and block totals were the highest by a Red Fox this season, and he also recorded the team's first double-double of the season. Junior swingman Chavaughn Lewis (Queens, N.Y.) added 14 points and six rebounds.
Marist held Penn without a double-digit scorer. Fran Dougherty and Tony Hicks each scored a team-high nine points apiece. Dougherty led the Quakers with eight rebounds.
The first half was a back-and-forth affair for the first ten-and-a-half minutes, and featured six lead changes and three ties. A three-pointer by Hart with 9:39 left in the first half gave Marist a 16-15 lead, and the Red Foxes maintained the advantage the rest of the way. Starting with Hart's three, Marist hit three-pointers on three consecutive possessions, as Hart followed with another, and Thomas hit the first of his four. The Red Foxes went on a 21-2 run, and added another 10-0 run later in the first half to take a 23-point halftime lead.
Marist led by as much as 25 in the second half, and never led by less than 14.
Marist outshot Penn from the field, .435-.390, and held a 45-32 edge in rebounds.
Marist improved its record to 3-9; Penn fell to 2-7.
Today's game was the last for Marist in the 2013 calendar year, and its final contest against a non-conference opponent in the regular season. The Red Foxes will return to Metro Atlantic Athletic Conference (MAAC) play on Thursday, Jan. 2 when they host Fairfield at McCann Arena. Tip-off is set for 7 p.m. Tickets are available on GoRedFoxes.com.
-GoRedFoxes.com-