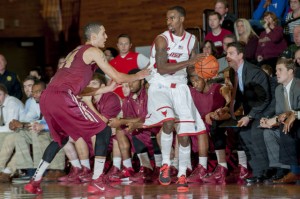 Courtesy of GoRedFoxes.com
POUGHKEEPSIE, N.Y. – The Marist men's basketball team earned its second straight win on Friday night with a 69-51 triumph over Bucknell of the Patriot League at McCann Arena.
The Red Foxes started strong in both halves. Marist scored the first 16 points of the game, and held Bucknell scoreless for the first 7:23. Including in this stretch were three three-pointers by junior guard T.J. Curry(Brooklyn, N.Y.). The Red Foxes led by as much as 20 in the first half, and took a 34-18 halftime lead.
Marist then started the second half by scoring eight consecutive points to take its largest lead of the game at 24 points. This flurry included back-to-back baskets by red-shirt freshman guard Khallid Hart (Newark, Del.). Bucknell never drew any closer than 14 points in the second half.
Junior swingman Chavaughn Lewis (Queens, N.Y.) led all scorers with 19 points, to go along with seven rebounds, five assists and two steals. Senior center Adam Kemp (Sherrill, N.Y.), playing on his 23rd birthday, registered 12 points on 5-for-7 shooting from the field while contributing game highs of eight rebounds and three blocked shots. Curry finished with 11 points, six rebounds and two steals.
Steve Kaspar led Bucknell (5-5) with 13 points. Marist held the Bison's leading scorer, Cameron Ayers, to 10 points on 3-for-13 shooting from the field.
Marist shot .458 (27-for-59) from the field, .500 (6-for-12) from three-point range and .900 (9-for-10) from the free-throw line. The Red Foxes held a 39-31 edge in rebounds, and forced 13 turnovers while committing 12. Bucknell, which entered the game shooting 47 percent from the field, shot just .288 (15-for-52 from the field).
Marist (2-9) continues its four-game homestand on Sunday, when the Red Foxes host Penn of the Ivy League at2 p.m. It will be the Red Foxes' final game of the 2013 calendar year, and their final non-conference game of the regular season. Tickets are available on GoRedFoxes.com.
-GoRedFoxes.com-