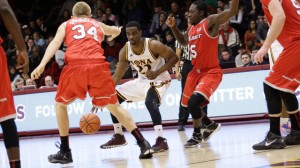 Courtesy of ICGaels.com
NEW ROCHELLE, NY – The Iona College men's basketball team set a new Hynes Center record for three-point proclivity, draining 17 trifectas in an 83-74 win over Marist in Metro Atlantic Athletic Conference action at home. Senior Sean Armand scored a game-high 26 points with six three-point field goals to lead the Gaels (4-2, 1-0 MAAC) in the win.
After conceding the first points of the contest to the Red Foxes (0-8, 0-1 MAAC), Iona knotted the score on the next possession and took the lead for good on the following. A 13-2 run capped by an Armand jumper nine minutes into the contest gave the Gaels their largest lead of the half at 24-13 with 10:58 remaining. Marist quickly climbed back with a 10-0 run over the next three minutes and cut the deficit to a single-point. The pendulum swung back the Maroon & Gold's way as they scored 11 of the games next 13 points. An Armand layup made the score 35-25 with 4:58 on the clock. Iona held a 39-31 advantage at the break.
The Gaels erupted for three straight three pointers to start the second half as an Armand transition three was sandwiched between two daggers by sophomore Isaiah Williams and put Iona up 15 less than two minutes in. Marist whittled the deficit to six points a little over three minutes later and it would be as close as they would get. Holding a 57-49 lead after two Red Fox free throws at 10:08, the Gaels exploded for four three-pointers on four straight possessions and led by 20 less than two minutes later. Armand started the barrage before senior Tre Bowman scored nine straight points in a span of 66 seconds. Iona led by 18 points with 2:09 remaining. Marist scored 13 of the final 17 points in the contest to get within nine before time ran out.
Armand's 26 points came on 9-for-15 shooting from the field and 6-for-10 from distance. He added four rebounds and three assists. Williams added 17 points, shooting 6-of-9 and 5-of-8 and matched his teammate's assist and rebound totals.
Sophomore point guard A.J. English had a 11-point, 13-assist double-double. Junior David Laury had 15 points, nine rebounds and three assists and Bowman added 14 points in the win.
Marist was led by 20 points and nine rebounds from junior Chavaughn Lewis. Three other starters posted 10 or more points including 16 from T.J. Curry and 15 a piece from Jay Bowie and Khallid Hart.
Iona shot 55.6% from the field and 56.7% from beyond the arc. They were just 6-of-14 (42.9%) from the charity stripe. Marist held the advantage on the boards 36-32. Iona had a season-high 26 assists but also committed a season-high 15 turnovers.
The Gaels complete MAAC December Weekend action Sunday at Fairfield.