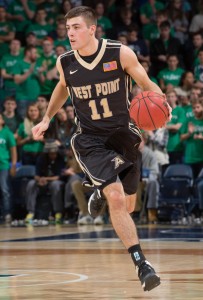 Courtesy of goARMYsports.com
WEST POINT, N.Y.  – Tyler Russell's three-point play with 2.0 seconds left in overtime propelled Houston Baptist (2-5) to a 74-72 victory over Army (1-5) in men's basketball action at Christl Arena Saturday afternoon. Down by one, the Huskies missed their first attempt at a game-winner, but Russell corralled the rebound and connected on a 14-foot jumper while getting fouled.
Following the made free throw, Army had a chance to win the game, but Kyle Wilson's shot from just inside the half-court stripe glanced off the back of the rim to seal the Huskies' victory.
The game featured 15 ties and 13 lead changes. The Black Knights trailed by as many as 12 in the first half, but came back to take a four-point lead and went into the locker room tied at 26-26. Army led by as many as six in the second half, but the Huskies answered to take a 62-58 lead with 1:09 remaining. A tip-in by Kevin Ferguson cut Army's deficit to two points, and following four straight missed free throws by HBU, Wilson hit a layup to tie the score with 20.6 seconds left. The Huskies had two chances to tie, but missed their final two field goal tries.
Army overcame a three-point deficit in overtime and led 72-69 after two free throws by Wilson, who scored six of the Black Knights' 10 points in overtime. HBU scored the final five points of the game, including Russell's game-winning shot.
Wilson scored a team-high 21 points, his third 20-point effort of the season, and grabbed a career-high eight rebounds. Ferguson chipped in with 12 points, five rebounds and three blocked shots, while Mo Williams scored a season-high 12 points, including a career-best three three-pointers. Larry Toomey tied Wilson for the team lead with eight rebounds. Dylan Cox and Matt Gramling each dished out three assists.
Russell led the Huskies with 21 points, going 8-for-11 from the field. Rob Lewis scored 18, while Ricmonds Vilde posted a double-double of 10 points and 12 rebounds.
Army shot 34.2 percent overall (27-79), including a 2-for-18 start, and were just 9-for-35 (.257) from long range. The Huskies connected on 45.5 percent from the field. HBU missed its first eight three-pointers, but drained its last three attempts. The Huskies held a 51-42 rebounding edge and scored 36 of their 74 points in the paint.
Cox converted a layup on Army's first possession, but the Huskies scored the next four points to take an early lead. Williams snapped the Black Knights 0-for-5 start from three-point range to put Army on top 5-4 with 16:55 to go, and a free throw by Toomey pushed the Black Knights advantage to 6-4 with 15:29 left in the opening period.
Houston Baptist took advantage of 10 straight misses by the Black Knights to post 14 consecutive points and take an 18-6 lead with 9:29 to go. Lewis scored six points during the spurt. Williams's second three-pointer stopped the Huskies' momentum, snapping a stretch of seven minutes, 33 seconds without a field goal and six minutes, 17 seconds without a point. The basket jumpstarted a 13-0 Army run that put the Black Knights back on top 19-18 with 5:24 left on the clock. Tanner Plomb scored four points, including a baseline dunk over the HBU defense that pulled Army within three.
A pair of free throws by Russell gave the Huskies a one-point lead and a basket by Vilde snapped HBU's stretch of five straight misses. Trailing 22-19, Wilson buried the first of his back-to-back three-pointers that gave Army a 25-22 lead at the 2:49 mark. A free throw by Toomey stretched Army's lead to four points, its largest of the half, but the Huskies scored the final four points of the stanza to go into the locker room tied at 26-26.
Both teams struggled from the field in the first 20 minutes. Army started 2-for-18, but rallied to connect on eight of their 17 shots to finish the first half at 28.6 percent overall and 22.2 percent (4-18) from deep. The Huskies shot 38.5 percent (10-26) overall, missing all four of their long-distance attempts.
Williams and Wilson accounted for all four of Army's three-pointers, scoring six points each. Seven of the 12 Black Knights that saw action before halftime scored. Russell and Lewis led the Huskies with eight first-half points each.
Army scored seven of the first nine points after intermission to take a 33-28 lead with 18:41 to go. The Huskies countered with a 7-0 run to take a two-point lead. The Black Knights regained the lead after a 6-2 spurt that consisted of three-pointers by Toomey and Gramling. Army stretched its lead to 48-42 after a basket by Wiliams with 10:34 left in the second half.
Houston Baptist scored nine of the next 12 points to tie the game for the ninth time. Jimmy Barton buried a three-pointer with 7:05 left to snap the Huskies' 0-for-8 start from distance. Free throws by Ferguson and a three-pointer by Williams pushed Army back in front by five, but an 11-2 spurt by the Huskies staked them to a 62-58 lead with less than two minutes to go. HBU had chances to ice the game at the foul line, but missed four straight free throws, including two one-and-ones and both ends of a two-shot foul. The miscues allowed Wilson to tie the game at 62-62 and force overtime.
The game was tied at 66-66 when HBU buried a triple to take a three-point lead with 2:44 to go. Wilson scored to cut the lead to one, and after a steal by Williams, he converted again to give Army back the lead with 1:47 showing on the clock. He buried two free throws to extend Army's lead to three points. HBU trimmed the lead to one, and after an Army miss, Russell executed his game-winning heroics.
The Black Knights are back on the road Wednesday night at Columbia. Tip-off in New York City is set for 7 p.m.
Game Notes: Dylan Cox made his team-leading 37th consecutive start … Army played 12 players in the first half, including Travis Rollo who made his first appearance before halftime of the season … the Black Knights used 13 players in the game, seven sophomores, three freshmen, two juniors and one senior … Ferguson became just the sixth Army player to record 50 career blocked shots … the sophomore has played in just 37 career games … the Black Knights have lost three straight non-conference home games in the same season for the first time since 2003-04 … Army and Columbia have met 56 times dating back to the 1904-05 season.