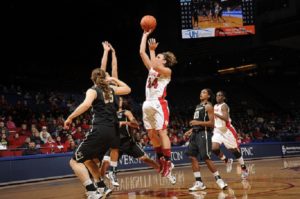 ATLANTA – University of Dayton junior guard Andrea Hoover was named to the 2013-14 Naismith Trophy early-season, 50-player watch list for women's basketball today.
Hoover is the only representative from the Atlantic 10 to be named to the Naismith Trophy early-season watch list.
Hoover was named to the 2013-14 Atlantic 10 Preseason First Team which is comprised of five players. This season she is tied for the team lead in scoring, averaging 15.8 ppg and second in rebounding with 6.4 rpg. The co-captain was named to the all-tournament team of the Hawkeye Challenge hosted by Iowa this year.
Following the 2012-13 season, Hoover was selected to the A-10 First Team and All-Academic Teams, the only sophomore on either team. She led the Flyers in scoring (12.9 ppg.) which ranked 10th overall in the league. The Bellbrook, Ohio, native was also named the 2012 A-10 Rookie of the Year.
ABOUT THE ATLANTA TIPOFF CLUB
The Atlanta Tipoff Club, an Atlanta Sports Council property, is committed to promoting the game of basketball and recognizing the outstanding accomplishments of those who make the game so exciting. The Atlanta Tipoff Club, founded during the 1956-57 season, has presented the Naismith Trophy every year since UCLA's Lew Alcindor first won the award in 1969.  Old Dominion's Anne Donovan won the inaugural Women's Naismith Trophy in 1983.
The Naismith Trophy has become the most prestigious award in all of college basketball, recognizing the Men's and Women's College Basketball Player of the Year, Men's and Women's College Basketball Coach of the Year, as well as awards for outstanding achievement in high school basketball, officiating, and contribution to the game.