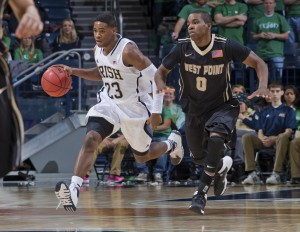 Courtesy of goARMYsports.com
NOTRE DAME, Ind. – Dylan Cox scored 11 points, grabbed eight rebounds and handed out five assists, but a game-ending 27-7 run by Notre Dame propelled the Fighting Irish to a 93-60 Sunday afternoon at the Purcell Pavilion. It was Cox's second straight double-digit scoring game.
Army (1-4) had an early lead and trailed by just eight at the half. Notre Dame (4-1) was able to open their lead up to 19 points in the opening minutes of the second half, but an Army rally cut the deficit to just 13 points with 9:12 to go. The Fighting Irish then opened things up, holding Army scoreless for a stretch of six minutes, six seconds during their decisive run.
In addition to Cox's output, sophomore Kevin Ferguson had 10 points and six rebounds, while classmate Larry Toomey added 10 points, four rebounds, two assists and two steals.
The Black Knights committed 22 turnovers that led to 31 points by the Irish. Army shot 39.1 percent for the game, including a 5-for-25 (.200) showing from three-point range.
Notre Dame had five players in double figures led by Garrick Sherman and Jerian Grant's 19 points. Sherman also snared a team-high seven rebounds. Zach Auguste added 14, while Eric Atkins posted 13 points. Demetrius Jackson rounded out the quintet with 11 markers. Grant also dished out eight assists and made six steals.
The Irish shot 56.5 percent for the game, including a 24-for-32 (.750) in the second half. Notre Dame outrebounded the Black Knights 39-34.
Army scored the first basket of the game and led 6-4 after a jumper by Kyle Wilson with 16:07 left in the half. Notre Dame scored the next five points, including a three-pointer by Pat Connaughton with 14:34 to go that gave the Fighting Irish their first lead. The Irish stretched their lead to 15-8 after six straight points by Auguste.
Toomey scored to stop the Black Knights' three-minute, 57-second stretch without a field goal and start a 6-0 Army run that cut the Notre Dame lead to 17-16 with 8:15 remaining in the opening half. The Irish scored 10 of the next 13 points to post their first double-digit lead at 21-21 with 2:10 to go before halftime. Knight scored five points during the run, including a three-pont play with 5:55 left.
A pair of free throws by Toomey ended a three-minute, 18-second scoring drought for the Black Knights and pulled them within eight points at the 1:49 mark. Sherman knocked down two free throws for UND before a jumper by Matt Gramling made it an eight-point game with 1:14 left in the half. Neither team found the bottom of the net for the remainder of the opening stanza, sending the Irish into the locker room with a 33-25 lead.
The Black Knights remained within striking distance despite an 0-for-7 showing from behind the three-point line and 13 first-half turnovers. Cox led Army with eight points, making all four free throws. Sherman scored a game-high nine points in the first 20 minutes. Army was 11-for-19 from inside the arc and outrebounded Notre Dame, 21-16, in the first half.
Notre Dame opened the second half with a three-pointer by Connaughton on the first possession after halftime and took a 13-point lead on a basket by Sherman. The bucket started a run of 10 straight Notre Dame points for the Irish center as they stretched their advantage to 48-31 with 15:56 to go. Grant capped the 15-6 run with a breakaway dunk after an Army turnover.
The Irish stretched their lead to 19 points but Army was able to whittle its deficit to just 13 points after a three-pointer by Herbeck with 9:12 to go. The triple made it 64-51 before Notre Dame when on its game-ending run. The Irish led by as many as 35 in the closing minutes.
Army returns home after the Thanksgiving holiday to host Houston Baptist on Saturday afternoon. Tip-off at Christl Arena is set for 1 p.m.
Game Notes: Dylan Cox made his team-leading 36th consecutive start … Army went back to its starting lineup utilized during the first three games with Cox, Josh Herbeck, Kyle Wilson, Tanner Plomb and Kevin Ferguson lining up at the jump … Kyle Weldon made his season debut … Wilson had his four-game double-digit scoring streak snapped with seven points … Ferguson did not block a shot for the first time this season … Army defeated Houston Baptist last season in Houston … it was the first meeting between the two teams.