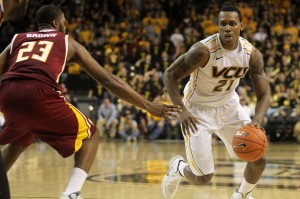 The comings and goings of Atlantic 10 men's basketball.
Williams and Bembry earn weekly conference awards
NEWPORT NEWS, Va.—Massachusetts senior Chaz Williams has been named the Atlantic 10 Conference's Men's Basketball Player of the Week  and Saint Joseph's freshman DeAndre' Bembry earned the league's Rookie of the Week award. Both awards were announced Monday for games played Nov. 11-17.
Williams averaged a double-double with 21.5 points and 10 assists in UMass' wins over LSU and previously unbeaten Youngstown State (4-0 prior to Sunday). He netted a team-high 24 points, nine assists and three rebounds in the game with the Tigers, contributing 17 points and five assists in the first half alone. The senior guard from Brooklyn, N.Y., followed that on Sunday against the Penguins and had a game-high 19 points and 11 assists for his first double-double of the year and 12th of his career. He has scored at least 19 points in all three games and averaged eight assists thus far.
VCU stuns UVA
Treveon Graham hit a go-ahead 3-pointer from the top of the key with 1.4 seconds left to secure a thrilling 59-56 win over 25th-ranked UVA. Graham led all scorers with 22 points on the evening. HAVOC forced the Cavaliers into 19 turnovers on the night, leading to nine steals for the Black & Gold. It was only the second time in VCU history that the Rams won a true road game against a top-25 opponent, the other came in 1994 at Louisville.  Read more…

VCU wears down Winthrop
RICHMOND — Leading by just six points with 14:01 remaining, Virginia Commonwealth University needed to make a play to regain control of the game and retake the momentum from a Winthrop squad intent on scoring an upset over the No. 14 ranked team in the country. Read more…
Big second half lifts SLU past SEMO
ST. LOUIS – Grandy Glaze registered a perfect shooting performance and his first career double-double to lead Saint Louis to a season-opening 87-64 victory over Southeast Missouri State Friday night at Chaifetz Arena. Read more…

UD runs away from St. Francis, Brooklyn
DAYTON – The University of Dayton Flyers defeated St. Francis Brooklyn by a score of 78-58 to move to 3-0 on the season in front of a crowd of 12,183 Saturday at UD Arena. Playing in its Opening Round mainland game in the at EA Sports Maui Invitational, Dayton used an 11-3 run midway through the second half to turn a three-point margin into double digits, and a 30-7 run to gain complete control of the game.  Read more…

Jordan Siebert's game-winner lifts UD

UMass improves to 3-0 with win over Youngstown State
AMHERST, Mass. – Led by double-doubles from Chaz Williams and Cady Lalanne, the Massachusetts basketball team defeated Youngstown State 85-69 at the Mullins Center Sunday improving to 3-0 on the season. The loss was the first for the Penguins which dropped to 4-1 overall.  Read more…

UMass outlasts LSU
AMHERST, Mass. – A dynamic inside-outside game by Chaz Williams and Cady Lalanne along with clutch free throw shooting from Sampson Carter down the stretch led the way as the UMass men's basketball team defeated LSU 92-90 on Tuesday morning as part of the ESPN College Hoops Tip-Off Marathon.  Read more…

Bonnies control paint in victory over Canisius
With a distinct advantage in rebounds and points in the paint the Bonnies outscored their long-time rival, Canisius Golden Griffins by 15 in the second half on their way to a convincing 86-64 victory Saturday night in the Reilly Center. Read more…

Wright's career night sown from seeds of desperation 
Matthew Wright, St. Bonaventure's senior guard, turned in a performance Saturday night against Big 4 rival Canisius which delicately balanced patience with force. And his motivation comes from the feeling one gets when timing is running out.
La Salle uses late run to beat Siena
PHILADELPHIA – The La Salle men's basketball team celebrated Homecoming in style on Saturday afternoon, exciting the sell-out crowd that packed Tom Gola Arena with a 78-74 come-from-behind victory over Siena. The Explorers (2-1) outscored the Saints 20-8 over the final 6:12 to nullify an eight-point deficit and secure the hard earned victory. Read more...

Seniors lead St. Joseph's over Marist
Langston Galloway scored 20 points and Halil Kanacevic and Ronald Roberts, Jr., each posted a double-double as Saint Joseph's defeated Marist, 81-62, in the Hawks'  home opener at Hagan Arena. Read more…

Fordham discovers strength in the zone
Rose Hill Gymnasium was filled with frustration, as the Rams pulled ahead early in the period, 18-11, only to surrender a 33-23 run over the final 8:28.  Read more…

Richmond beats Belmont
UNIVERSITY OF RICHMOND, Va. – Sophomore Terry Allenled three Spiders in double-figures as Richmond defeated Belmont, 69-61, at the Robins Center on Monday night in the Hall of Fame Tipoff. Read more…

Second-half surge leads URI past NC A&T
In a back-and-forth first half battle that saw nine lead changes and seven ties – as well as neither team leading by more than four points – North Carolina A&T (1-2) took a 33-32 lead into the break thanks to its 50-percent (12-24) showing from the field.  Read more….
New Hampshire defeats #DUQMBB
PITTSBURGH – New Hampshire hit 15 3-pointers, including 8-of-12 in the second half, to defeat Duquesne 84-81 at the Palumbo Center.
Tra'Vaughn White led four Dukes in double figures with 18 points. Ovie Soko added 14, Dominique McKoy had 13 and Derrick Colter finished with 12. Read more…

George Mason holds off Northern Iowa
FAIRFAX, Va. – In his second straight game, sophomore Marko Gujanicic posted a double-double as three Patriots scored in double-figures to lead the George Mason men's basketball team to a 76-70 victory over Northern Iowa on Saturday. Mason never trailed by more than two points in the contest, improving to 3-0 on the season. UNI dropped to 1-2 with the loss.  Read more…
File under ICYMI or from what seems like the way back machine: The return of GW's Kethan Savage
The college basketball season has yet to officially get underway, with regular season play beginning on Friday, and yet George Washington guard Kethan Savage already has two #POSTERIZED appearances to his credit.