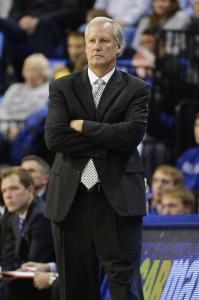 Courtesy of SLUBillikens.com
ST. LOUIS – Saint Louis University head men's basketball coach Jim Crews announced today that five standouts have signed National Letters of Intent to attend the University and play for the Billikens. All begin their four years of eligibility next season.
The signees are 6-4 guard Marcus Bartley (Decatur, Ill./MacArthur H.S.), 6-11 center Austin Gillmann (St. Louis, Mo./Oakville), 6-10 forward Brett Jolly (Southlake, Texas/Southlake Carroll H.S./Blair (N.J.) Academy), 6-2 guard Miles Reynolds (Chicago, Ill./Whitney Young H.S.) and 6-4 guard Davell Roby (Memphis, Tenn./White Station H.S.).
"We are excited to welcome these five young men into our program," Crews said. "They are all intelligent, have strong athletic backgrounds and have very high character. The lasting impression someone in our program can have is to be a good teammate, and all of these players fit that mold. We are proud they are a part of Saint Louis basketball."
Below are brief bios on the five future Billikens, along with a quote from Crews. Their full bios will be updated on SLUBillikens.com at the end of their prep careers.
Marcus Bartley – PG – Decatur, Ill. – MacArthur High School
Bartley is a four-year point guard at MacArthur High School in Decatur, Ill. He plays AAU for the Peoria (Ill.) Irish. Crews on Bartley: "Marcus is a tall guard who has a high skill level. His ability and length will be effective on both ends of the floor."
Austin Gillmann – C – St. Louis, Mo. – Oakville High School
Gillmann averaged 12.7 ppg and 8.9 rpg last season at Oakville. He also plays for the St. Louis Gateway AAU club. Crews on Gillmann: "Austin is a skilled big man with length. He is a versatile player who will fit into our system well."
Brett Jolly – F – Southlake, Texas – Southlake Carroll High School – Blair (N.J.) Academy
Jolly is playing at Blair Academy in Blairstown, N.J., after graduating from Southlake Carroll High School in Texas. He played AAU ball for the Dallas Seawolves. Crews on Jolly: "Brett is a big man who has the ability to play inside and out. He is a hard worker who is making great progress in his development."
Miles Reynolds – SG – Chicago, Ill. – Whitney Young High School
Reynolds scored 12.2 ppg and buried a team-best 30 3-pointers last season for Whitney Young in Chicago, one of the top prep teams in the country which is sending three current seniors to NCAA Division I programs. Crews on Reynolds: "Miles is a poised athlete who is a good ball-handler with an ability to score. He will be a leader in our program."
Davell Roby – PG – Memphis, Tenn. – White Station High School
Roby averaged double figures last season at White Station High School in Memphis. Roby also played for the Team Penny AAU program where he averaged 8.9 ppg in helping the squad qualify for the Peach Jam. Crews on Roby: "Davell is a versatile athlete who is very competitive. He has a bright future here at Saint Louis University."