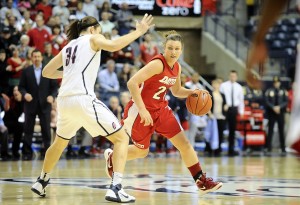 Courtesy of Atlantic10.com
RICHMOND, Va. – Dayton has been picked as the Atlantic 10 Conference women's basketball preseason favorite in the annual preseason poll that was announced at Tuesday's Media Day held at the Richmond Coliseum. The league also released the preseason all-conference teams, which honored 20 women's basketball student-athletes.
Dayton garnered 12 of a possible 13 first-place votes and a total of 168 points to take the top spot.  UD finished last season with a perfect 14-0 league record, advanced to the Second Round of the NCAA Tournament and garnered two First Team Preseason All-Conference members and four honorees total.
Defending A-10 Tournament Champion Saint Joseph's took the remaining first-place vote and finished with a total of 146 points to place second in the poll.
Duquesne edged out Fordham by one point for third place in the poll.  The Dukes are under the direction of first-year coach Dan Burt, while the Rams are coming off one of their best seasons in school history and advanced to the A-10 Finals.
George Washington finished with 115 to finished fifth, followed by Richmond with 107 points, VCU with 72 and St. Bonaventure with 59.    La Salle (58 points), George Mason (40 points), Massachusetts (29 points) and Rhode Island (26 points) round out the 13-team poll.
Wumi Agunbiade of Duquesne, Andrea Hoover of Dayton and Fordham's Erin Rooney, all First Team All-Conference selections a year ago, were named to the First Team Preseason All-Conference team along with Robyn Parks of VCU and the Flyers' Ally Malott.
SJU placed a pair of guards on the second team in Erin Shields and Natasha Cloud.  The Hawks duo is joined by Dayton's Amber Deane, Kristina King of Richmond and Duquesne's Orsi Szecsi
The third-team consists of Genevieve Okoro and Becca Wann of Richmond along with Danni Jackson of George Washington, Samantha Clark of Fordham and sharp-shooter Jessica Pellechio from VCU.
Rooney, Cloud and Parks were all recognized on the All-Defensive team. Kelley Austria of Dayton and Chakecia Miller of GW also were tabbed to the Preseason All-Defensive Team.
2013-14 Atlantic 10 Women's Basketball Preseason Coaches' Poll
Dayton                                                 168 (12)
Saint Joseph's                               146 (1)
Duquesne                                       136
Fordham                                          135
George Washington                   115
Richmond                                        107
VCU                                                   92
Saint Louis                                       72
St. Bonaventure                           59
La Salle                                             58
George Mason                              40
Massachusetts                              29
Rhode Island                                  26
2013-14 Atlantic 10 Women's Basketball Preseason All-Conference Teams
First-Team 
Wumi Agunbiade                         Duquesne
Andrea Hoover                             Dayton
Ally Malott                                      Dayton
Robyn Parks                                   VCU
Erin Rooney                                    Fordham
Second-Team
Natasha Cloud                               Saint Joseph's
Amber Deane                                Dayton
Kristina King                                   Richmond
Erin Shields                                     Saint Joseph's
Orsi Szecsi                                       Duquesne
Third-Team 
Danni Jackson                                George Washington
Genevieve Okoro                        Richmond
Samantha Clark                             Fordham
Jessica Pellechino                        VCU
Becca Wann                                   Richmond
All-Defensive Team
Kelley Austria                                Dayton
Natasha Cloud                               Saint Joseph's
Chakecia Miller                             George Washington
Robyn Parks                                   VCU
Erin Rooney                                    Fordham