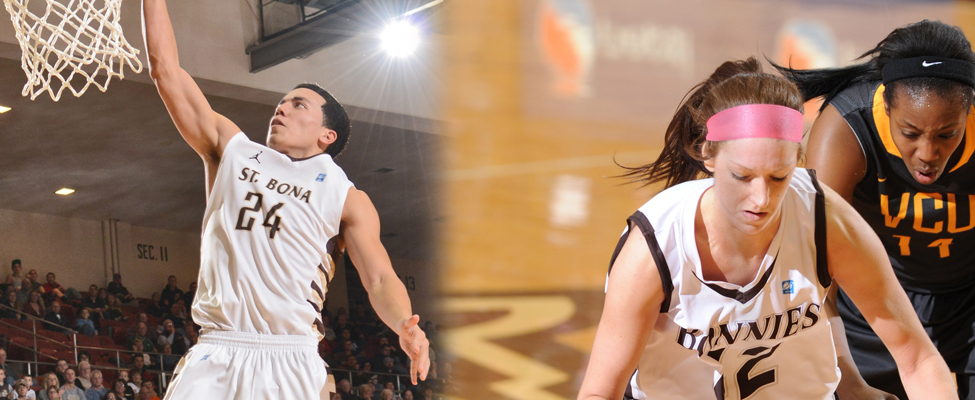 Courtesy of GoBonnies.com
BUFFALO, N.Y. – Four St. Bonaventure University student-athletes were selected to the Preseason All-Big 4 Basketball Teams, which were unveiled Monday at First Niagara Arena during the Big 4 Media Day.
On the women's side, sophomore Katie Healy was named to the first team while senior Chelsea Bowker was selected to the second team. For the men, senior Matthew Wright and junior Youssou Ndoye were both named to the second team.
Healy, who is a native of Lancaster, N.Y., is the Bonnies' top returner in both scoring (8.6 points per game) and rebounding (5.6). The 6-foot-1 forward also blocked a team-high 38 shots last season as a freshman. Bowker did not play in 2012-13 due to an ankle injury. In the Bonnies' Sweet 16 season of 2011-12, Bowker played in all 33 games and averaged 7.2 points per contest. She holds a career .397 three-point shooting percentage.
Last season, the Bona women finished 10-19 but did have a 3-0 mark against the Big 4.
Wright, a 6-foot-4 guard, averaged 7.3 points per game last season, which is best among the Bonnies' returning players. He led the Bonnies in scoring three times highlighted by a career-high 22 points in a win at Temple. Ndoye, a 7-foot center, averaged 6.9 points, 4.9 rebounds and 1.3 blocked shots per contest.
The Bona men finished 14-15, including a 2-1 mark in the Big 4 with wins over Buffalo and Niagara.
St. Bonaventure's women open their season Nov. 8 at North Carolina State while the men open at home Nov. 9 against South Dakota.
This season's Big 4 schedules for the Bonnies:
Women: Nov. 19 vs. Niagara; Dec. 4 at Canisius; Dec. 17 vs. Buffalo
Men: Nov. 16 vs. Canisius; Dec. 7 at Buffalo; Dec. 21 at Niagara