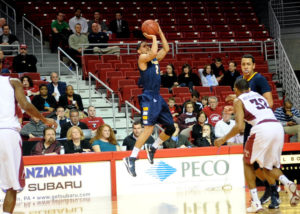 Courtesy of GoGriffs.com
BUFFALO, N.Y. – Former Canisius College men's basketball player Isaac Sosa has signed a professional contract to play with Penarol in the Argentinian LigaA. Sosa is the second member of the 2013 graduating class to sign a pro contract, joining with former teammate Harold Washington, who recently signed to play professionally in Algeria.
Sosa played in and started all 34 games for the Golden Griffins in 2012-13, where he averaged 11.6 points and 2.0 rebounds per game. The Guaynabo, Puerto Rico native set the school's single-season 3-point field goal record with 95 makes from behind the arc and he finished his only season in Blue and Gold ranked 28th in the nation with 2.79 3-pointers per game and 32nd in the country in 3-point shooting percentage at 40.9 percent for the year. He scored a season-high 25 points in Canisius' win over Manhattan at home Jan. 17 and he knocked down a career-high eight 3-pointers in the team's win over Longwood Dec. 17, leaving him one long-range make shy of tying the program's single-game record.
In addition to his long-range shooting abilities, Sosa was also honored for his work in the classroom as a well. He was named to the 2012-13 MAAC All-Academic Team, the Division I-AAA Athletic Directors Association Scholar-Athlete Team and the National Association of Basketball Coaches Honors Court. He earned his undergraduate degree from Canisius in finance in May.
"I am very excited about this opportunity," Sosa said. "Penarol has been one of the best teams, if not the best, in Argentina. I know that I will be playing a vital role as their shooting guard and I'm ready for that challenge. It is such a privilege to be a part of a winning tradition and I am excited to get started with the team."
Penarol, which competes at the top level of the Argentine basketball system, went 28-14 in 2012-13 and advanced to the LigaA semifinals. The team is based out of Mar del Plata, Argentina and has won four league titles and two FIBA Americas League crowns.