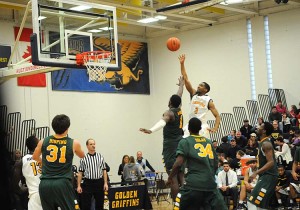 Courtesy of GoGriffs.com
BUFFALO, N.Y. – Former Canisius College men's basketball player Harold Washington recently signed a professional contract with Constantine of the Algerian D-I league.
The 6-foot-1, 175-pound guard played for two seasons at Canisius after transferring from Cecil Community College. Washington averaged 15.3 points and 3.4 rebounds per game in 64 career contests as a Golden Griffin. An All-MAAC Third-Team honoree in 2013-14, Washington leaves Canisius as just the eighth player in program history to earn All-MAAC postseason honors in multiple seasons. He started in 62 of the 64 career games he played in Blue and Gold and scored his career-high 30 points in the team's victory at Longwood Nov. 15, 2011. Prior to joining the Canisius program, the Brandywine, Md., native averaged 13 points and 6.2 rebounds per game at Cecil College, where he was named a Junior College Division II First-Team All-American after the 2009-10 campaign.
"The chance to play professional basketball after college is a dream come true," Washington said. "Being able to go overseas and play makes this experience that much better. I am very proud to be able to represent Canisius in Constantine."
The Constantine basketball team posted a 17-1 record during the 2012-13 season. The city of Constantine, Algeria is located in northeast part of the African country, 50 miles from the Mediterranean Sea. The city has a population of 448,374, making it the third largest city in the country after Algiers and Oran.
Washington was the second-leading scorer for the Griffs in 2012-13, a season that saw the program post a 20-14 overall mark and an 11-7 record in MAAC play. The 20-win season for Canisius was the program's first since 2000-01, and the Griffs saw their year come to an end in the quarterfinal round of the CollegeInsider.com Postseason Tournament, the Blue and Gold's first postseason appearance since 1996.