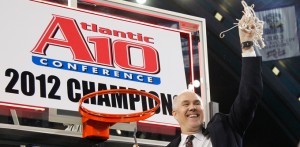 Courtesy of GoBonnies.com
ST. BONAVENTURE, N.Y. – Spots for the 7th annual Mark Schmidt team and individual basketball camps this summer are still available, but are going quickly with the first camp just three weeks away. Both camps are directed by Schmidt, who guided St. Bonaventure to the 2012 Atlantic 10 Championship and was named the A-10 Coach of the Year by the Sporting News.
The Individual Camp is for boys ages 8-17, and there are two separate camps being held June 24-27 and July 29-Aug. 1. A typical day for campers includes fundamental skill building, 3-on-3 competitions, games, contests, a guest speaker and three meals. Campers will receive exceptional instruction from an experienced staff of coaches and members of the St. Bonaventure basketball team.
Participants will be playing in the historic Reilly Center on St. Bonaventure's campus, as well as the state-of-the-art Richter Center next door which includes three indoor basketball courts. Campers will receive a commemorative camp T-shirt, and the cost of the four-day overnight camp is $335.
The Team Camp takes place on Saturday, July 20-Sunday, July 21 and is for teams which will be divided into different divisions (small schools, large schools). Games will be played in both the Reilly Center and Richter Center, with a "March Madness" style tournament taking place on Sunday, July 21.
On both days, every team will be guaranteed three sets of games, three meals and a Coach Schmidt Chalk Talk. For the two days, every team is guaranteed six games with certified officials. A free camp T-shirt is given to every camper, and awards will be given for each division champion. The cost of the weekend camp is $110 per player on the team.
The camp brochures, which include registration forms for both camps, can be accessed at the top of the release or by logging on to GoBonnies.com and clicking on the "Camps" tab. For more information, contact Matt Pappano by email atmpappano@sbu.edu or by phone at 716-375-2218.