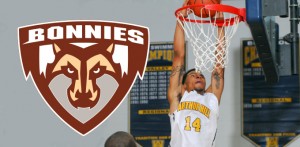 Courtesy of GoBonnies.com
ST. BONAVENTURE, N.Y. – Jalen Adams, a high school senior who averaged 25 points and 13 rebounds per game last year playing in Michigan's highest level, signed a National Letter of Intent on Wednesday to join the St. Bonaventure men's basketball program, head coach Mark Schmidt announced Thursday.
Adams, a 6-4 guard who also averaged two steals and two blocks per game, chose the Bonnies over USC and DePaul and completes Schmidt's five-member recruiting class. Additionally, Adams was drawing interest from Villanova, Iowa and Nebraska, among others.
Arthur Hill High School, located in Saginaw, Mich. just outside Detroit, finished the year 19-4 and Adams was named to the Associated Press Class A All-State Team. He was also named The Saginaw News Boys Basketball Player of the Year in leading the Lumberjacks to the Saginaw Valley League title last year.
"In terms of athleticism, Jalen is arguably the most explosive recruit we've signed during my tenure," said Schmidt, who is entering his seventh year at Bonaventure. "His vertical leap has been measured at 40 inches. He can slash to the basket, but also has the ability to elevate for highlight dunks. He's a high-major athlete who needs to continue to develop his skill set. But overall, we're extremely happy with Jalen's signing and will be looking to take advantage of his great athleticism."
By way of comparing Adams' 40-inch vertical, the best vertical jump at the 2012 NBA Pre-Draft Combine Camp was 38 inches by Harrison Barnes. The next best was 34.5 inches by 2013 NBA Rookie of the Year Damian Lilliard.

Metro Detroit High School Athletics, an independent media outlet, had the following to say about Adams in February: "Jalen would be an absolute steal for any team that can land him. He might be the most athletic unsigned senior in the state. Adams has the ability to make a highlight whenever he takes flight. Once he gains more confident in his jump shot, it will make him a much more complete player, only making him more difficult to guard."
Adams, who signed his NLI on the last day of the regular signing period, completes SBU's scholarship allotment. Joining Adams in the 2013 group are Xavier Smith (6-7 / Plano East (Texas) High School), Andell Cumberbatch (6-4 / Barton (Kansas) Community College), Denzel Gregg (6-7 / St. Thomas More (Connecticut) Prep) and Chris Dees (6-8 / New Mexico Junior College).