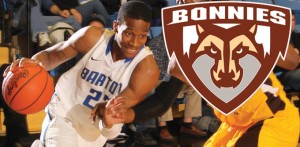 Courtesy of GoBonnies.com
ST. BONAVENTURE, N.Y. – Andell Cumberbatch, a 6-4 guard who has spent the past two years at Barton (Kansas) Community College, has signed a National Letter of Intent to join the St. Bonaventure men's basketball program, head coach Mark Schmidt announced on Wednesday. Cumberbatch will have two years of eligibility with the Bonnies beginning this fall.
A dual threat from inside and outside, Cumberbatch was Barton's Most Improved Player from his freshman to sophomore season as he averaged 14.2 points and a team-best 8.2 rebounds per game last year for the Cougars. Cumberbatch more than doubled his scoring average and increased his rebound average by more than five per contest from 2011-12 to 2012-13. Additionally, his 279 rebounds last season were the 28th-most in the nation.
A native of East Orange, N.J., Cumberbatch shot an impressive 49.7 percent from the field and 37.8 percent from 3-point range this past year – an improvement by 8 percent from the floor and an incredible 12 percent from beyond the arc. The 180-pound guard posted double-double performances in nine of Barton's 16 conference games, and missed three others by just a single point or rebound. He finished with 11 total double-doubles on the year, by far the most on the team.
"We're really impressed by the progression and improvement Andell has made in just one year," Schmidt said of the 2013 First Team All-Jayhawk Conference West Division member. "He's a hard worker and his dedication and commitment has clearly yielded results. He's a great shooter who also crashes the glass hard, which is a rare combination we're looking to take advantage of right away."
Cumberbatch – who was rated as a top-70 JUCO prospect in the nation – was also named to the All-Region 6 Division I First Team last season after increasing his free-throw percentage by more than 20 percent from his freshman year.
Barton was ranked in the top-10 in the nation during the 2012-13 season and played in the Region 6 Championship before finishing the campaign with a 28-6 record.
Cumberbatch (pronounced: An-DELL) is the second signee this week and third in the past 10 days to join the Bonnies. Xavier Smith, a 6-7 high-school forward from Plano, Texas, inked his NLI on Monday, joining fellow 6-7 high-school forward Denzel Gregg, who officially committed last Monday.