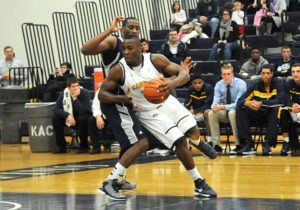 Courtesy of GoGriffs.com
BUFFALO, N.Y. – The Canisius College Golden Griffins will travel to play at Youngstown State in the second round of the 2013 CollegeInsider.com Postseason Tournament on Saturday, March 23, CollegeInsider.com announced today. The game between the Golden Griffins and the Penguins is set to tipoff at 7 p.m.
Canisius advanced to the second round of the CIT with a 69-53 win over Elon University Wednesday night in the Koessler Athletic Center. The Griffs had five scorers post double figures in the victory, led by senior Harold Washington, who scored a team-high 19 points for the Blue and Gold. The Griffs held Elon to a season-low 29.4 percent from the field in the win, the program's first postseason win since March 23, 1995, when the Griffs beat Washington State in the quarterfinal round of the NIT.
The Griffs are 19-13 overall after defeating Elon. The 19 wins are the most for the program since 2000-01 and the 14-win differential between this season and last year's five-win campaign marks the largest turnaround in school history.
Youngstown State won the first postseason game in school history March 19, when the Penguins defeated Oakland at home by a score of 99-87. Youngstown State improved to 18-15 on the year with its win over Oakland in a game where the team set a school single-game record with 18 3-point field goals.
This will mark the fourth all-time meeting between Canisius and Youngstown State in a series that started Jan. 18, 1941 in Buffalo. These two schools met most-recently during the 2006-07 season, with the Griffs posting a 71-59 win over the Penguins in Youngstown, Ohio. Canisius is 3-0 all-time against Youngstown State.
Tickets for Saturday's game at Youngstown State are $10 for reserved, $7 for general admission. Tickets can be purchased through the Youngstown State ticket office by calling (330) 941-1978. The game will also be streamed live through CollegeInsider.com and Canisius' radio call can be heard live on AM-1400 in Buffalo and through the Golden Griffin Broadcast Network.