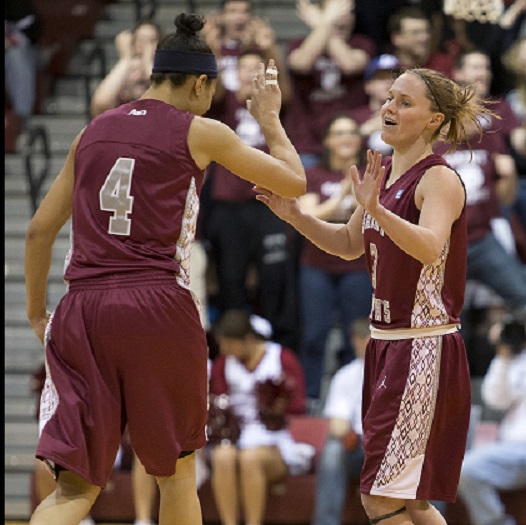 PHILADELPHIA –The Saint Joseph's women's basketball team is headed to the Atlantic 10 title game next Saturday in Brooklyn as the Hawks topped #11 Dayton in the semifinals of the Atlantic 10 Championship Sunday afternoon at Hagan Arena. With the win, the Hawks will now play for the A-10 title next Saturday, March 16 at the Barclays Center in Brooklyn, N.Y. Game time is set for 7 p.m.
The Hawks held a 52-49 lead with 2:45 remaining in regulation, but Dayton's Andrea Hoover hit a jumper to bring the Flyers to within one, SJU's redshirt senior Chatilla van Grinsven responded with a jumper of her own to bring the Hawks back up three, 54-51 with 2:12 to go.
Following a defensive stop, junior Erin Shields was fouled and hit a pair of free throws to extend SJU's lead to 56-51 with just over a minute to play.
Saint Joseph's would cause a Dayton turnover in its next possession, leading to two more free throws by Shields to extend the lead to 58-51.
The Flyers would get a three-pointer by Ally Mallott to cut the deficit to four, 58-54 with 41 seconds to play.
Saint Joseph's would close out the win from the line, hitting 3-of-4 foul shots to earn the win and advance to the A-10 title game.
In a hot first half, the Hawks led by as many as 15, 33-18, as the Hawks hit 16-of-35 from the field (45.7 percent), while holding Dayton to just 29.6 percent (8-of-27).
Despite a 35-24 lead coming into the second half, the Hawks would face a tough battle back from Dayton as the flyers cut it to a single-possession game in the final minutes.
van Grinsven led all scorers with 19 points and 10 rebounds for her 16th double-double of the season. JuniorErin Shields hit 12 points while classmate Ilze Gotfrida was good for 10 points and eight assists. Senior Ashley Prim netted eight points and pulled down a game-leading and career high 13 points.
Saint Joseph's outshot Dayton in the first half, shooting 45.7 percent (16-of-35) from the floor as opposed to Dayton's 29.6 percent (8-of-27). For the game, the Hawks held advantages in rebounds, 42-32, and steals, 11-5, while turning the ball over four less times than the Flyers.