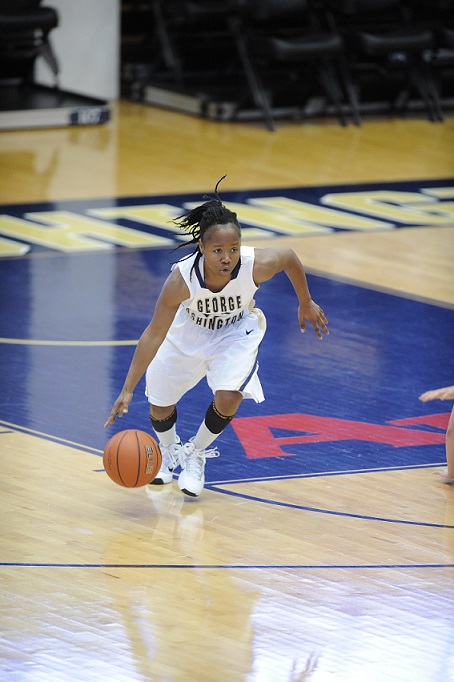 PHILADELPHIA – The George Washington women's basketball team jumped out to a big early lead and held on down the stretch for a 59-53 win over Richmond in the first round of the Atlantic 10 Championship at Michael J. Hagan '85 Arena on the campus of Saint Joseph's University.
After winning an A-10 tournament game for the first time since 2008, the eighth-seeded Colonials advance to face top-seeded and 11th-ranked Dayton in the A-10 quarterfinals on Saturday at 12 p.m. The Flyers earned a first-round bye after completing a perfect conference season.
Rachael Bilney gave No. 9 Richmond (16-15) a quick lead with a layup 27 seconds into the game, but GW (14-15) scored 15 straight to take a game-high 13-point lead, as the Spiders missed their next 14 shots and turned the ball over five times in the first eight minutes.
Becca Wann ended Richmond's drought with a jumper at the 11:42 mark, and the Spiders began to chip away, cutting their deficit to five on a three-pointer by Samantha Bilney with 2:46 left in the half. Senior Danni Jackson responded with a triple of her own, and the teams traded baskets on their next possessions before Wann made a layup at the buzzer the make it a six-point game at halftime, 30-24.
The Spiders' shooting woes continued early in the second half, as they made just two of their first 12 shots, but they managed to stay close by making six straight free throws, and back-to-back layups by Ryann Dannelly and Wann pulled them within three with 11:28 left.
A layup by Bilney at the 6:32 mark tied the game at 49-49, and a pair of free throws by Kristina King gave the Spiders their first lead since 2-0. GW responded after two missed free throws, when sophomore Chakecia Miller got an offensive rebound and dished it to senior Megan Nipe, who tied the game and sparked a 7-0 Colonials' run. Two Miller foul shots gave GW the lead for good with 4:19 to go.
Jackson led the Colonials with 13 points, five assists and three steals, and Nipe scored 12 points and pulled down six rebounds. Senior Shi-Heria Shipp added 10 points, and graduate student Tara Booker finished a point shy of a double-double with nine points and a team-high 12 rebounds to go with two blocks.
Wann led Richmond with a double-double of 17 points and 12 rebounds off the bench, with 13 of her points coming in the first half. King tallied 16 points but was just 5-of-20 from the floor.
GW shot 44 percent from the field after making 54.2 percent of its shots in the first half while holding the Spiders to just 28.1 percent from the floor in the game, the sixth time this season the Colonials have held their opponent below 30 percent shooting. Richmond held a slight rebounding edge, 41-39, but out-rebounded GW, 15-7, on the offensive glass, which led to the Spiders getting 14 more field goal attempts.