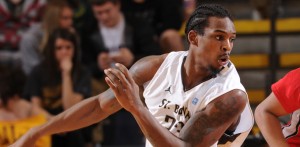 Courtesy of GoBonnies.com
ST. BONAVENTURE, N.Y. – St. Bonaventure forward Marquise Simmons has been granted a sixth year of eligibility by NCAA officials. Simmons, who was listed as a redshirt senior this year due to an extension waiver's pending outcome, will be a redshirt senior next year for the 2013-14 season, his final year with the Bonnies.
"We're excited to have Marquise back for another year with us," head coach Mark Schmidt said. "He's gotten better each year, which his numbers verify, and we're expecting him to really take that next step next year as he'll be our most experienced player."
Under NCAA rules, a student-athlete has a five-year eligibility clock to complete four years of athletic competition. However, this can be extended due to circumstances beyond the student-athlete's control. Bonaventure officials filed an extension of eligibility waiver on Simmons' behalf earlier this year, and were notified of the approval late last week.
"I'm really glad I'm going to have the opportunity to return next year," Simmons said. "I'd like to thank all the people who have helped me throughout this process to ensure that I was granted an additional year. I'm excited about next season, but my sole focus now is finishing this year strong and positioning ourselves for a postseason run."
Simmons, a 6-8 forward, enrolled at St. Bonaventure in the spring of 2009, but did not use his first season of athletic eligibility until the 2009-10 season. After playing his sophomore season in 2010-11, Simmons suffered an Achilles injury in the first two minutes of SBU's 2011-12 season opener and did not play the rest of the year, receiving a medical hardship waiver.
Now in 2012-13, the Washington, D.C. native is nearing the end of his redshirt junior season. He had previously been granted eligibility to compete in the fall of 2013, but with the extension will now be able to complete the 2013-14 season as a redshirt senior.
A journalism and mass communication major, Simmons is averaging 6.2 points and 5.1 rebounds per game this season. He is second on the team in rebounding, having pulled down 137 boards this year, and has produced the first two double-doubles of his career with 12 points and 12 rebounds against Niagara on Nov. 24 and 12 points and 10 rebounds opposite Siena on Dec. 4.
During his first year in 2009-10, Simmons averaged 2.9 points and 3.3 rebounds per outing. He increased those averages to 3.9 and 3.6, respectively, during the 2010-11 campaign before posting his best season yet in the Brown and White this year.