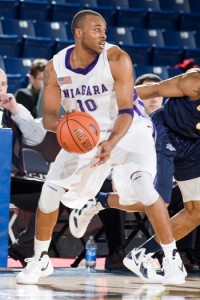 Courtesy of PurpleEagles.com
NIAGARA UNIV., N.Y. – The Niagara Purple Eagles claimed the 2013 MAAC regular season title with a 78-61 victory over the Saint Peter's Peacocks on Saturday.
A strong second half showing propelled Niagara (18-12, 13-5 MAAC) to its first-ever outright MAAC regular season title and its fourth regular season conference title (1999, 2001, 2005). The regular season crown guarantees the Purple Eagles at least a bid to the National Invitational Tournament (NIT).
"We failed the test Thursday night, but you know what as fate would have it we had the test again today and we passed the test," head coach Joe Mihalich said. "I thought we played like champions. You can ask 10 coaches if they think13 wins are good or something to be proud of and I think they would all agree. 13 wins are tough to get in this league."
NU finished its conference slate with a 13-5 record, which ties for its second best MAAC record in program history. The Purple Eagles' 11 home wins are tied for second most during the Mihalich era.
Niagara will be the No.1 seed in next week's MAAC Tournament in Springfield, Mass. and will play on Saturday at 2:30 p.m. against the winner of No. 8 Marist/No. 9 Siena. For ticket information for the MAAC Tournament, contact the Niagara Athletic Ticket office at 716-286-TIXX (8499).
Niagara jumped out to a quick lead when senior Devon White hit a baseline jumper to start the game as the Purple Eagles lead 19-9 through the opening seven minutes. Saint Peter's (9-20, 3-15 MAAC) cut NU's lead to 29-28 with 1:26 left, but a timely 3-pointer by T.J. Cline with one second left in the half shifted momentum back to the Purple and White.
"It was a mojo type shot, it got us going," Mihalich said. "We needed something like that."
The Purple Eagles' offense came alive in the second half. Up 35-32 at the 15:39 mark, Marvin Jordan, Juan'ya Green and Antoine Mason combined to make four consecutive 3-pointers, including a four-point play, as part of a 13-2 run.
The spurt ignited NU as its lead eventually ballooned to its largest in the game, 71-44, with 6:30 left.
"I thought we attacked it (SPU's press) better in the second half," Mihalich said. "The kids adjusted at halftime and we did a good job in the second half."
Four Purple Eagles scored in double figures; Mason and Cline each scored 14, while Green and Jordan added 12. Ameen Tanksley was one point away from netting double-digits and White scored eight points in his last home game.
Green led the game with his second nine-assist game of the season as Niagara finished with a season-high 21 assists on 27 field goals.
"It feels great to win the regular season, but we still have work to do," Green said.