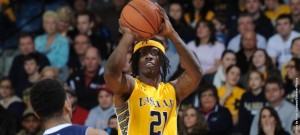 Courtesy of GoExplorers.com
PHILADELPHIA – Five Explorers reached double figures in a 97-64 La Salle victory over Duquesne on Saturday afternoon at Tom Gola Arena. Senior Ramon Galloway led all scorers with 23 points (8-13 FG, 3-7 3PT, 4-4 FT) and added a game-high six assists.
Joining Galloway in double figures were Tyrone Garland (20 pts), Tyreek Duren (16 pts), Jerrell Wright (16 pts), and Sam Mills (10 pts). Mills was a perfect 4-4 from the field and 2-2 from long range. Wright pulled down a game-high eight rebounds and added a pair of highlight reel blocks in just 16 minutes.
With the victory, the Explorers improved to 20-7 (10-4 A-10) on the season while the Dukes slipped to 8-20 (1-13 A-10). It marks the second straight 20-win season for the Explorers, the first time since 1988-89 and 1989-90 that La Salle has reached that mark in two consecutive years.
The win also gave La Salle 20 wins in 27 games, the fastest by an Explorer team since the 1989-90 team won 20 games in 21 games. La Salle's 10 A-10 wins also ties a program record since joining the conference in 1995-96.
"I thought we played great," head coach Dr. John Giannini said. "I thought we played hard. We were focused, we shared the ball, we defended, and we had pretty much everyone contribute. Everyone knows that Duquesne's beaten some good teams this year so we had a lot of respect for them."
"We're just in the mindset of being afraid to lose," Galloway said post-game when asked about the Explorers' stretch run. "We just need to understand that every game from here on out is big. You have to make a run in March. That's the most important run."
La Salle controlled the opening tip and opened the game on a 9-1 run, forcing a Duquesne timeout at the 15:57 mark. The Blue and Gold remained hot, however, and built up a 50-25 halftime advantage behind a 62 percent (18-29) mark from the field. Of its 18 made field goals, 14 came by way of the assist. The Explorers ended the afternoon with 23 assists, its second-highest tally on the season.
La Salle's defense was equally sharp in the first half, limiting the Dukes to a 30 percent (9-30) shooting clip in the period. Duquesne's first field goal did not come until the 13:34 mark. The Dukes coughed up 13 turnovers on the afternoon, and the Explorers capitalized with 20 points off of them. In contrast, the Blue and Gold turned it over only seven times, the seventh time this season they have not reached double digits.
The Dukes began the second half on a 17-11 run to cut their deficit to 61-42, but the Explorers countered with a 20-8 run of their own to gash open an 81-48 lead (9:29) to put the game well out of reach.
Duquesne's Derrick Colter erupted for 14 points in the second half after being held to two in the first to lead his squad in the scoring column. Colter also added five assists and five turnovers to his line. Quevyn Winters notched 13 points for the Dukes on 6-9 shooting. Andre Marhold blocked four shots and pulled down five rebounds.
As a team, La Salle finished the game at 52 percent (34-66) from the field, 42 percent (10-24) from behind the arc, and 76 percent (19-25) from the free throw line. Duquesne converted at 41 percent (26-64) from the field, 19 percent (8-18) from three, and 69 percent (9-13) from the free throw line.
For the game, the Explorers held a 37-35 edge on the glass and a 44-38 advantage on points in the point.
"It's all of our dreams," Galloway said when asked about the prospects of playing in the NCAA Tournament. "It's a big deal now but we're not trying to make it too big of a deal because we have to understand that we still have two more games left and we still have the whole Atlantic 10 Tournament.
"We always go with the philosophy of next day, next game, next practice."
"I loved the way we played today and I love that we're in position to do good things," Giannini said. "But the season's not over."
The Blue and Gold will see George Washington for the second time this season on Wednesday, when the Colonials pay a visit to Tom Gola Arena for a 7 PM matchup. A Senior Day ceremony will recognize Galloway and Garvin Hunt pre-game.
Notes: La Salle improved to 11-1 when making at least nine three-pointers…The Explorers are 10-2 at Gola Arena this season and have won 26 of their last 31 in the building…La Salle is 13-1 when dishing at least 15 assists…D.J. Peterson had a career-high six assists…La Salle is 7-1 when Ramon Galloway has at least five assists.