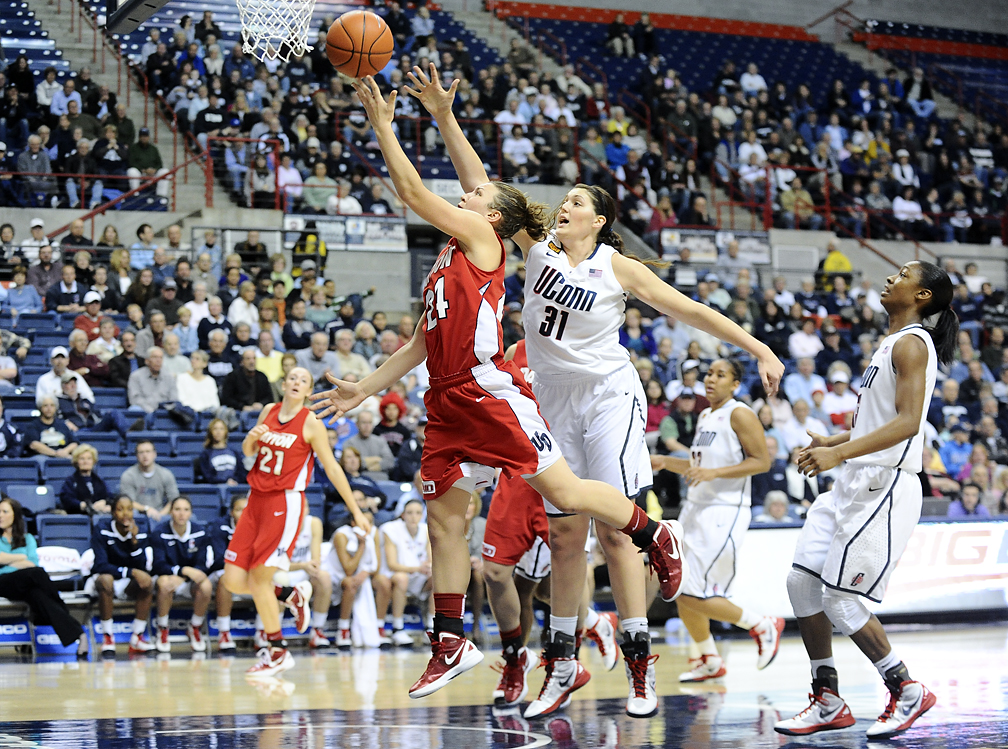 ST. LOUIS – #12/12 University of Dayton women's basketball defeated Saint Louis 71-61 Thursday night at Chaifetz Arena to clinch at least a share of the Atlantic 10 regular season title. The Flyers improve to 25-1 overall and 13-0 in the Atlantic 10 with just one conference game left to play. The 25 wins ties a school record for victories in a season since UD became an NCAA Division I school in 1985-86. The Billikens drop to 11-17 overall and 5-8 in A-10 play.
Sophomore Andrea Hoover led the Flyers with 16 points. Fellow sophomore Ally Malott also scored in double figures, putting up 12 points. Senior Sam MacKay and freshman Amber Deane both added nine points and freshman Jodie Cornelie-Sigmundova chipped in eight points.
For only the third time this season, the Flyers were outrebounded. SLU won that battle 40-38.
Dayton held its largest lead, a 20-point advantage, with 9:27 to play but the Billikens fought back to get as close as six with 1:27 left in the game.
The Flyers led 33-19 at the half. The 19 points allowed was the second lowest amount of points the Flyers have allowed this season; and it marks the seventh time this season UD has held an opponent to 19 points or lower in a half. With the game tied at six 18:19 into the game, the Flyers used a 21-6 run over an eight-minute span to jump out to a 27-12 lead midway through the first half.
UD held its largest lead, 32-15, when Hoover hit one of her three treys with 6:35 left.  The Flyers could not build on the lead after missing on their last seven field goal attempts of the half.
The Flyers' last home game of the season is against Saint Joseph's this Sunday, March 3 at 2 p.m. This game will be nationally televised on ESPN2. It is a WHITE OUT and fans who wear white shirts get in for $1. Prior to the game, seniors Olivia Applewhite, Sam MacKay and Brittany Wilson will be honored.
Due to increased attendance, it is recommended to get your tickets early the day of the game Sunday (the Ticket Office opens 1 hour before tip), buy them at the men's game Saturday (until halftime), or call the ticket office at 229-4433.