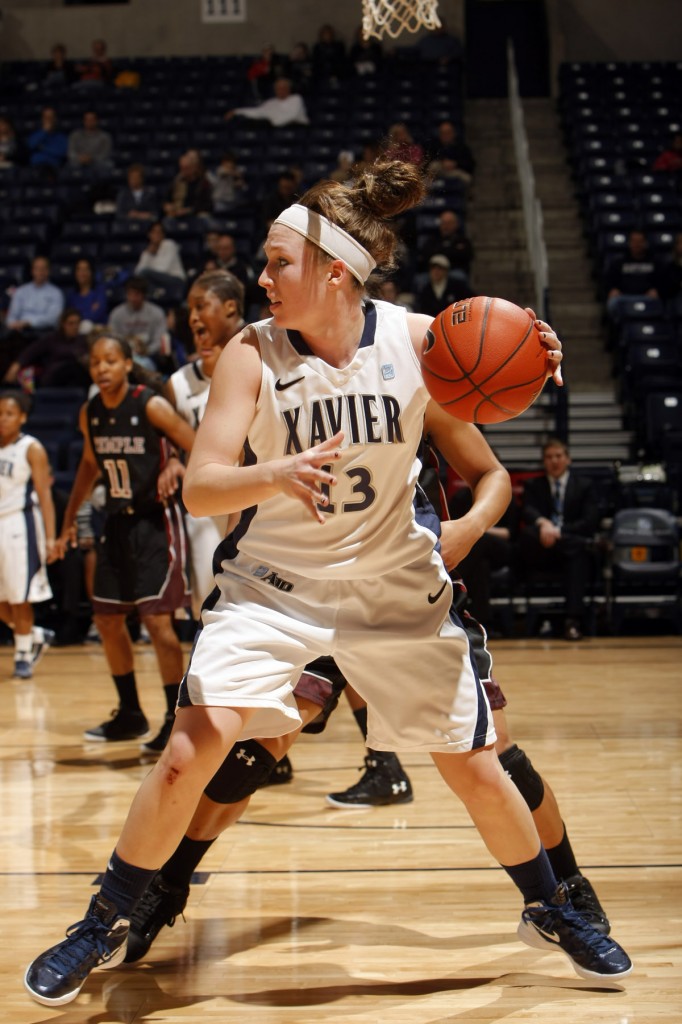 CINCINNATI — The Xavier women's basketball team won its fifth straight game Wednesday night with a 65-62 win over Atlantic 10 rival George Washington in the final home game of the season. With the victory, the Musketeers improved to 12-15 overall and 6-7 in the A-10 while the Colonials fell to 12-15 overall and 6-7 in the conference.
Freshman guard Jenna Crittendon led the Musketeers and all scorers with a career-high 19 points on 6-of-13 from the field. Junior Ashley Wanninger was second in scoring with 14 points on 4-of-8 from the field including 2-of-3 from behind the arc. Senior Amber Gray was the final Musketeer in double-figures with 10 points to go along with 10 rebounds.
Free throws proved crucial down the stretch as the Musketeers hit 76.5 percent of their attempts from the charity stripe.
GW came out hot in the second half but XU managed to rally late in the game.
George Washington tied the game at 34-all on a 3-pointer by Danni Jackson with 18:59 left in the game. Jackson's trey capped a 13-3 Colonials run that began with 3 minutes left in the first half.
The Colonials took a 38-37 lead on a layup by Chakecia Miller at the 17:14 mark. GW would allow XU to tie the game twice but didn't relinquish the lead until the 1:35 mark when Gray put XU on top 63-60 with an old-fashioned three-point play.
Hawkes put XU up 65-60 with a pair of free throws with 45 seconds left to cap a 12-2 run over the final three minutes of action to seal the win.
The Musketeers led 34-29 at the half thanks in large part to 15 points from Crittendon. The freshman guard went 6-of-9 from the field including 2-of-4 from behind the arc. Her 15 first half points eclipsed her earlier season high of 13 points in a game, which came against Michigan on November, 12. Wanninger was second in scoring for XU with five points while Gray, Pachko, and Glover each posted four points. As a team, the musketeers went 11-26 from the field and 8-of-12 from the free-throw line. 

GW opened the game with a 7-0 run but back-to-back 3-pointers by Gray and Crittendon and another jumper by Crittendon at the 12:22 mark put XU on top 14-10.
Crittendon's jumper at the 9:11 mark put XU up 21-12 and put the freshman guard into double-figures with 11 points.
The Musketeers will close out the 2013 regular season Saturday, March 2, at UMass. Live stats for Saturday's contest will be available at GoXavier.com.