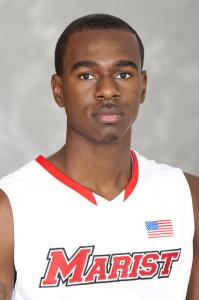 Courtesy of GoRedFoxes.com
CHICAGO – Marist sophomore guard Chavaughn Lewis' 65-foot prayer to send the Red Foxes into double overtime vs. Iona on Feb. 7 is nominated for the GEICO Play of the Year, Intersport announced today. Each week for eight weeks, four incredible college basketball plays will be nominated as the GEICO Play of the Year. Each week's winner will be determined by fan voting through the official Facebook page (facebook.com/BestofCollegeBasketball). The eight finalists will compete in a week-long competition to determine the GEICO Play of the Year. The winner will be announced during the GEICO Best of College Basketball special which airs April 6 on CBS.
In addition to recognizing the season's top plays, the one-hour CBS special will relive the season's greatest moments, players and traditions. The show reviews the GEICO Best of 2013 Basketball Tour, an interactive fan experience that visits 10 marquee games throughout the basketball season.
Trailing by three with time winding down in the first overtime, Chavaughn Lewis had no choice but to heave a 65-foot shot in hopes of forcing another extra period. Unbelievable, Lewis made the prayer and Marist went on to beat Iona 105-104.

Lewis' incredible long-bomb is competing against three other plays in week seven, including a coast-to-coast layup by San Diego's Christopher Anderson, a game-tying half-court shot by Wisconsin's Ben Brust and buzzer-beating layup by Illinois' Tyler Griffey.
To watch or support Lewis or any of the other highlight plays, visit www.facebook.com/BestofCollegeBasketball. Fans can also share their vote with Facebook friends. Week Seven voting opened today and ends Monday, March 4, at 11:59 A.M. ET.
About Intersport
Since 1985, Intersport has been an award-winning innovator and leader in the creation of sports and entertainment based marketing platforms. Intersport provides turnkey solutions for global brands by combining two award-winning divisions: Sponsorship & Event Marketing and Television & Digital Media. To learn more about Intersport, log on to www.intersportnet.com, like us on Facebook (Facebook.com/IntersportBuzz) or follow us on Twitter (@IntersportBuzz)