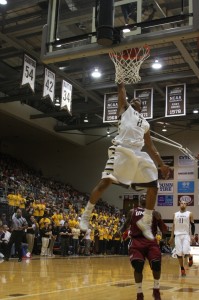 All that is good with Atlantic 10 men's basketball.
Mosley and Larsen earn weekly awards
NEWPORT NEWS, Va. – The Atlantic 10 Conference has named St. Bonaventure senior Eric Mosley its Men's Basketball Player of the Week and George Washington freshman Kevin Larsen the A-10 Rookie of the Week. The awards were announced Monday for games played during the week of Feb. 18 – Feb. 24.
Mosley scored the most points ever by a St. Bonaventure player in an Atlantic 10 Conference game as he tallied a career-high 39 against UMass on Wednesday. The 39 points – Mosley's second-straight 30-point performance – are tied for the most by an A-10 player in a game this year, equaling the mark set by Richmond's Darien Brothers on Jan. 19 against Charlotte. No Bonaventure player has scored more points than Mosley in a regulation 40-minute game since 1977. The guard from Louisville, Ky., then followed that performance up with a 16-point outing at Duquesne on Saturday, knocking down a pair of 3-pointers and issuing a team-high five assists.
Larsen averaged 12.0 points on 50 percent shooting, 5.5 rebounds and 2.5 assists to help GW split its pair of conference games this past week.  The forward from Copenhagen, Denmark, opened with a career-high 15 points on 6-of-11 shooting to lead GW to a 68-60 victory over Fordham on Wednesday.  He then totaled nine points, six rebounds, three assists and two blocks at Saint Joseph's.
Click here to read more and see the Honor Roll
Mosley's 39, seniors propel Bonnies past UMass
It was a harbinger of events to unfold as Bona used a devastating offensive attack en route to earning a 99-94 victory at the Reilly Center, just their second win in their last seven games at home.
Mosley's defense makes his offense possible
Mosley opened Wednesday's game with an acrobatic layup in traffic. He curled off a screen at the top of the key and caught a pass from Demitrius Conger, using a pump fake before drawing contact and finishing off the glass. After a free throw he had an old-fashioned three point play. One trip later, he nailed a runner from outside the lane.
Billikens knock off No. 15 Butler
INDIANAPOLIS (AP) — Mike McCall had 18 points and Kwamain Mitchell scored 10 of his 12 in the second half to help Saint Louis rally for a 65-61 victory over No. 15 Butler on Friday night.
Billikens pound VCU take over first
ST. LOUIS – Jordair Jett scored 16 points, including 12 straight during a key stretch in the second half, and Saint Louis took over first place in the Atlantic 10 Conference with a 76-62 dismantling of No. 24 VCU in front of a Billiken Blue Out crowd of 10,027 Tuesday night at Chaifetz Arena.
Andrew Smith named Academic All-America
INDIANAPOLIS, IND. – Senior Andrew Smith, who has helped lead Butler to 22 wins and a "Top 25" national ranking, has been named second team on the 2013 Capital One Academic All-America Division I Men's Basketball Team. The honor squad is selected by the College Sports Information Directors of America (CoSIDA).
Youngsters power Richmond over Fordham
BRONX, N.Y. – Freshman Deion Taylor scored 12 points and freshman Terry Allen had a career-high 11 as Richmond won at Fordham's Rose Hill Gym 72-55 Saturday afternoon.
Temple makes statement with La Salle win
Fast forward to tonight, some 20 days removed from his original statement as both he and his team — unshattered and unflappable in the wake of the public scrutiny that followed a tough home loss to an A-10 basement-dwelling Duquesne — trounced Big 5 foe La Salle, 82-74.
Steve Zack provides an important piece to the La Salle puzzle
And as this season heads into bubble-busting banter time across the country, Zack is having an enormous impact on his team's play. Zack has started 18 out of the team's 25 games and his averages have jumped to 6.8 points and team-leading 6.6 rebounds a game while playing 23 minutes per contest. A far cry from the nine minutes he averaged last year.
Lalanne leads UMass over UD 
On a day where Chaz Williams was honored for scoring 1,000 career points and fans were treated to a visit from UMass alum and New York Giants Pro Bowl wide receiver, it was Cady Lalanne who stole the show with a career high 22 points and 14 rebounds in the Minutemen's 76-66 win over Dayton in the Mullins Center on Saturday afternoon. The win snapped a three-game losing skid for the Minutemen who allowed just six points from the Flyers in the final eight minutes of play.
@BonniesMBB pick up crucial road win at Duquesne 
PITTSBURGH – St. Bonaventure (13-13, 6-7 Atlantic 10 Conference) watched a double-digit lead evaporate, but behind a game-high-tying 19 points from Chris Johnson and Demitrius Conger, the Bonnies were able to stave off a feisty Duquesne team (8-19, 1-12 A-10) with a 78-71 win Saturday night to move right into the thick of the A-10 postseason race.
VCU dominates second half en route to win at Xavier
Senior Troy Daniels and junior Rob Brandenberg combined for 24 points in the second half and VCU forced Xavier into 12 second-half turnovers en route to a dramatic 75-71 road win for the Black & Gold. The Rams blistered the nets at a 53.1 percent rate in the second half, while stifling the Musketeers to just nine second-half field-goals as VCU rallied from 17 down to defeat Xavier at home, a place the Musketeers had previously won 52 of their past 53 conference games.
Shaka Smart comments on Spike Lee coming to practice

Strong second propels Xavier over Rhody
KINGSTON, R.I. – Freshman Semaj Christon and senior Travis Taylor had a big second halves and the Xavier men's basketball team played outstanding defense as it picked up a 55-42 victory on Wednesday night at the Ryan Center.
Stingy defense, balanced offense lead Temple to win at Charlotte
CHARLOTTE, NC – Temple utilized its best defensive effort of the season and a balanced offensive attack to capture a much needed 71-51 win at Charlotte Sunday afternoon.   The Owls, winners of three in a row for the first time since opening the season at 6-0, improve to 19-8 and 8-5 in Atlantic 10 Conference play.  The 49ers, who lost for just the third time in 14 home games, fall to 18-8, 6-6.
Chris Harris to join UD Hall of Fame
An unselfish offensive leader and defensive stopper who would be called a "point guard" in today's game, Chris Harris played on Flyer basketball teams that were a combined 94-29.  He played in three NIT's and was part of teams that reached the finals twice.
Read more….

If you're going to criticize, put your name to it
"The grind is still there," he said. "The grind, and I mean this respectfully, has to do with (the media) and the social media world they live in. I have two guys in there that read every word that's written about them, about us, about me, and it wears on them."
Got anything to add to the Bounce? Please post it in a comment.