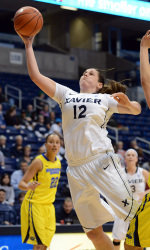 RICHMOND, Va. – On the strength of eight made free throws in the last 49 seconds of the game, the Xavier women's basketball won its four consecutive Atlantic 10 Conference contest, 65-54, at Virginia Commonwealth Saturday afternoon. Junior Shatyra Hawkes led the Musketeers with 15 points and a career-high-tying eight rebounds.
Xavier improves to 11-15 overall and 5-7 in league play while VCU falls to 10-17 on the season and 3-9 in A-10 games.
Also for the Musketeers, seniors Amber Gray and Jessica Pachko each added 14 points while freshman Jenna Crittendon led the squad with 10 rebounds and four assists to go with eight points.
XU out-rebounded VCU, 48-31, but committed 20 turnovers to the Rams' 13 miscues. For the game, Xavier shot 41.1 percent from the floor, 33.3 percent from long range and 82.4 percent from the line.
The Musketeers scored the first four points of the second half to take their first lead of the game, 29-28, and used a 6-0 run with just over 10 minutes left to retake the lead at 39-38. Junior Ashley Wanninger sank her first basket of the game at the 5:43 mark, the first of three consecutive 3-point baskets for the Musketeers that gave the squad its 53-48 lead with 3:49 on the clock.
Xavier's last field goal was a layup from Gray with just over three minutes to go. The Musketeers went on to make 12 of their last 13 free throw shots, including eight-straight points in the last 49 seconds, to stretch their lead to the final margin of 11, 65-54.
After a slow start for both teams, VCU used a 6-0 run to stretch its lead to nine, 19-10, with nine minutes left in the first half. The Rams would lead by as many as 10, 25-15, with just under five to play. The Musketeers closed out the first 20 minutes on a 10-3 run to slice into the Rams' lead. VCU held the three-point, 28-25 margin at the break.
Pachko led XU in the first half with 10 points while Crittendon tallied six rebounds in the first 20 minutes.
The Rams were led by Robyn Parks with 21 points and 11 rebounds for the game's only double-double.
The Musketeers return home on Wednesday, Feb. 27 for a mid-week match-up against the George Washington Colonials. Tip-off is set for 7 p.m. at XU's Cintas Center.