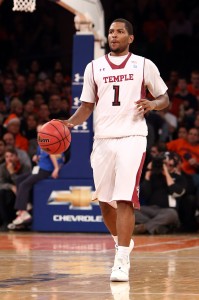 Courtesy of OwlSports.com
CHARLOTTE, NC – Temple utilized its best defensive effort of the season and a balanced offensive attack to capture a much needed 71-51 win at Charlotte Sunday afternoon.   The Owls, winners of three in a row for the first time since opening the season at 6-0, improve to 19-8 and 8-5 in Atlantic 10 Conference play.  The 49ers, who lost for just the third time in 14 home games, fall to 18-8, 6-6.
The Owls defense, which has been inconsistent at best, was superb Sunday.   Temple held Charlotte to 27.4 percent from the field (17-62) and a mere 8.3 percent (1-12) from beyond the arc.  It was the first time all season TU had held a foe below 30 percent shooting.
This was a far cry from the teams' first meeting, an 89-88 shootout at the Liacouras Center on February 6.  That Temple win was the second in in its record five-game one-point game streak.
The Owls never trailed in this contest, jumping out to a 6-0 lead on three-pointers by seniors Khalif Wyatt andScootie Randall.  Charlotte would forge a tie at 12-12 midway through the first half, but a 10-2 run capped by five points from Dalton Pepper gave Temple a 22-14 advantage.
The lead would hit double figures when Randall, who scored a game-high 18 points, converted a rare four-point play after being fouled on his made three to give the Cherry and White a 32-20 lead.  The Owls would then score seven of the final 11 points of the half to take a commanding 39-24 lead into the locker room.
Temple never let the 49ers back into the contest over the final 20 minutes as the closest the hosts would get was eight points twice, the last coming with 13:32 remaining (44-36).
The Owls would lead for much of the remainder of the contest by double-digits, finally breaking the game open with three straight treys by Jake O'Brien (10 pts), Randall and Wyatt.  The last one gave the Owls their largest lead, 69-47, with 1:26 to play and kept alive Wyatt's streak of double-figure games.   The A10 scoring leader (19.4 ppg.) now has scored in double figures in 20 times on the season, hitting the mark the last 13 contests.
It was another well-rounded offensive performance with three Owls tallying double figures while T.J. DiLeo (9 pts) and Rahlir Hollis-Jefferson (8 pts, 3 blocks, 3 steals) close behind.
Temple next hosts Detroit Thursday in a Gotham Classic game that was originally scheduled for December 28.  The game tips off at 7:00 p.m. (1210 AM WPHT) and will be available online via ESPN3.