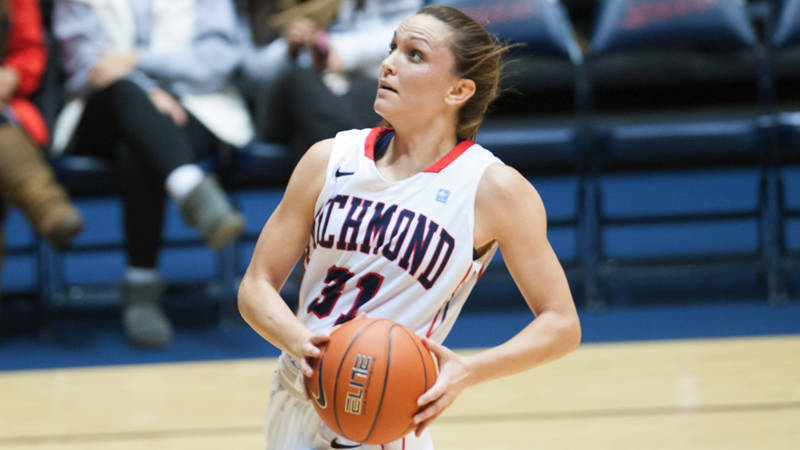 INDIANAPOLIS, Ind. — Richmond shot 60 percent in the first half and never looked back as it beat Butler, 68-44 Saturday at Hinkle Fieldhouse.
The Spiders improved to 15-13, 5-7 while Butler fell to 16-11, 7-5 overall. The win was Richmond's third-straight and first in conference play away from the Robins Center. The pivotal win moved Richmond into eight-place in the conference standings.
The Spiders snapped Butler's two-game win-streak and served them their first loss at home since Jan. 12. Butler had previously won four-straight conference games at Hinkle.
Richmond had one of its best shooting performances in conference play, going 24-of-49 (49%) and made 7-of-15 (46.7%) from long-range. To balance the offense, Richmond's defense was stellar holding Butler to 16-of-51 (31%) from the field and forcing 13 turnovers. Richmond scored 20 points off those miscues.
After the initial back-and-forth game between the two teams, Richmond used a dominating spurt to pull away midway through the first half. The score was knotted at 16-all but Richmond then used an 8-0 run to take the lead for good.
Shots kept falling for Richmond, as it used a 27-5 run to close the half and take a 43-21 lead into the break. The Spiders shot a scorching 17-for-28 (60.7%) from the field in their best half all season.
Richmond went 5-for-8 from behind the arc (62.5%) in the first frame and had 10 assists and only three turnovers.Rachael Bilney had a team-high 11 points at the half.
Bilney, Kristina King and Becca Wann all scored 13 points for Richmond. Bilney and Wann accounted for 12 of Richmond's 16 assists (Bilney had seven, while Wann added five dishes).
The Spiders continue road play at Rhode Island Wednesday, Feb. 27 at 7 p.m.
NOTES: Richmond beat Butler in the series' first-ever meeting at historic Hinkle Fieldhouse… The 43 first-half points was Richmond's most in the first half since Dec. 9 against UNCG.