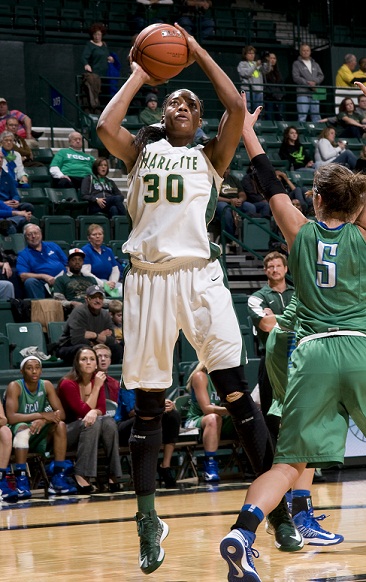 PHILADELPHIA – In a tale of two halves, the Charlotte women's basketball team pulled away in the second half riding a career day from Jennifer Hailey to post a 73-56 victory at La Salle Sunday afternoon, equaling the school record for consecutive wins with 11. The 49ers' senior notched her 12th-straight, which is one in every Atlantic 10 contest this season, the 21st of the season and 41st of her career double-double with a career-high tying 27 points and a career-best 18 rebounds.
Hailey's career day effort came while she connected on 11-of-15 field goals and 5-of-9 at the foul line, while she also extended her streak to 38-straight games with at least one blocked shot.
As a program, Charlotte now has won 11 in a row for the third time in school history and the first since between Dec. 8, 1980, and Jan. 21, 1981.
Also aiding the Niners cause Sunday was a 10-point effort from senior Jai Forney, while classmate Amanda Dowe added a near double-double of nine points and nine rebounds. Junior Ny Hammonds handed out eight assists, one-half of the team's total, and just one shy of the Explorers team total.
Ebonee Jones paced La Salle with 20 points, although she made just eight of 22 field goals. Shanel Harrison, a co-Atlantic 10 Player of the Week this past week, chipped in 16 points and a team-high six boards. One-half of Harrison's points came at the charity stripe.
The 49ers overcame a sluggish start and took advantage of a series of scoring lulls by the Explorers to take a first-half lead. La Salle (8-19, 4-8 A-10) had jumped out to an early 7-4 lead, utilizing a pair of old-fashioned three-point plays from Ebonee Jones and Indigo Dickens to force a Niners timeout at 18:15.
Charlotte responded after the timeout by continuing to find Hailey on the low block, as she netted 10 of the team's first 12 points. The basket that pushed her scoring total into double figures at 15:02 knotted the game at 12-12 by the first media break a dozen seconds later.
As the Explorers offense went cold for a few minutes, the 49ers located their other post option, Amanda Dowe, for the next four. Following a Jones field goal to tie it up again at 16-16 but Hillary Sigmon dropped in a 3-pointer at 12:13 to pad the Charlotte (22-4, 11-1 A-10) cushion. It would be the start of a 9-0 run as the 49ers opened a 25-16 advantage.
Two Jones runners kept La Salle close before it saw its offense again struggle for a near-four minute span. Meanwhile, Charlotte tacked on just six more points, the last on a pair of Hailey free throws, to expand its margin to 11, 31-20, as the teams entered the final five minutes of the half.
It would be during those five minutes when the Explorers took advantage of a cold shooting stretch for the Niners, outscoring Charlotte 12-4 in the waning minutes, to close within three, 35-32, at the intermission.
The 49ers came out of the break with renewed intensity, focus and energy. Seven-straight points provided a 10-point cushion by the 16:42 mark but two Jones field goals and a Siobhan Beslow jumper helped trim the deficit to six just under a minute and a half later.
With Charlotte maintaining the 44-38 edge, the 49ers would use a 13-2 spurt over the next seven minutes to pull away and take a 57-40 lead. The lone La Salle points during the stretch came at the foul line. Hailey netted six, Hammonds and Forney poured in four apiece to expand the margin to its largest lead to that point of the game.
The closest the Explorers would close the gap down the stretch would be 13 after a Jones jumper for a 59-46 score with 6:21 to play. Hailey added back-to-back layups on Hammonds assists before being removed with 3:09 remaining as Charlotte emptied its bench.
With the four freshmen and a sophomore on the floor in the last few minutes, a Shequana Harris layup with 38 seconds to go gave the Niners their largest lead at 19, 73-54, before a Dickens layup on the ensuing possession decided the final outcome.
Charlotte returns to action at 7 p.m. Thursday when it closes the home regular-season slate against Atlantic 10 newcomer VCU. It will be Senior Night inside Halton Arena, as a pregame ceremony will recognize the on and off accomplishments of this year's class of Dowe, Forney and Hailey. Manager Corey Grady will also be honored.
Thursday's contest can be watched live on Charlotte49ers.com with Josh Feldman handling the play-by-play duties.