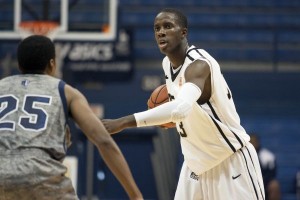 Courtesy of goARMYsports.com
WASHINGTON, D.C. – Trailing by three with 18:50 left in the second half, Army (14-13, 7-5 PL) embarked on a 35-10 run to overtake American (10-17, 5-7) and earn a 72-58 milestone victory at Bender Arena Saturday afternoon. The Black Knights have won four Patriot League games in a row for the first time in school history and extended their Academy record with their fourth straight road win in Patriot League play.
Army won its program record seventh Patriot League contest, and seized control of the battle for a home playoff game. The Black Knights are now two games clear of both Colgate and American for fourth place. A victory in either of its last two games or a loss by Colgate would clinch the fourth spot in the league standings. Army can still move into third place which is currently occupied by Lafayette. The Leopards are one game ahead of the Black Knights in the loss column, but Army won both regular season meetings to own the tiebreaker.
Senior Ella Ellis led four Army players in double figures with 15 points, including four three-pointers. Freshman Kyle Wilson was 2-for-3 from deep en route to 14 points, while junior Josh Herbeck buried four triples for 12 points. Freshman Kyle Toth added three three-pointers as part of his 11-point day. Senior Jordan Springer led the team with five rebounds off the bench, while freshmen Dylan Cox and Larry Toomey paced the Black Knights with four assists each.
Army shot 51.0 percent (26-51) for the game, including a 54.2 percent (13-24) from three-point range. The Black Knights' defense limited the Eagles to 44.9 percent (22-49) shooting and forced 16 turnovers that led to 23 points.
Stephen Lumpkins was the only American player in double figures with 10 points, almost five points below his season average. Tony Wroblicky led the team with seven rebounds, while Daniel Munoz handed out a game-high eight assists. Mike Bersch and John Schoof each scored nine points on three three-pointers.
American held an early 4-2 lead, but the Black Knights shook off a 1-6 start and rattled off 11 straight points, including three-pointers by Herbeck and Ellis, to take a 13-4 lead. Tony Wroblicky ended a five-minute, 37-second scoring drought for the Eagles to make it 13-6 with 11:30 on the clock. American scored the next basket as well to make it a five-point game, but Army answered with eight of the next 10 points to take a 21-10 lead with 8;09 remaining. Toth and Herbeck capped the run with back-to-back triples.
Another Herbeck three made it 26-25, but consecutive three-pointers by the Eagles jumpstarted a 13-3 run that pulled American within one at 29-28. Ellis's jumper with 2:01 left put Army on top 31-28 and proved to be the final points of the first half.
The box score was nearly even through the first 20 minutes. Both teams were 12-26 from the field, but Army's 7-4 edge in three-pointers was the difference on the scoreboard. Both teams grabbed 14 rebounds, and neither team took a free throw in the opening half. Toth led all players with 11 first-half points.
Back-to-back three-pointers by Bersch and Schoof in the first 1:10 gave the Eagles a 34-31 lead. Army rattled off nine straight points, regaining the lead after a steal and layup by Wilson with 16:59 left.  A Herbeck three-pointer extended Army's lead to 40-34 with 15:21 to go.
American pulled within four points on three occasions, but would come no closer. Up 44-40 with 13:44 to go, Ellis knocked down one of two free throws to ignite a 22-4 run over the next nine minutes, 31 seconds that put the game out of reach. Wilson capped the spurt with a jumper that made the score 66-44. Ellis scored 10 points during the run, including three three-pointers, while Wilson netted the final 10 points of the spurt.
Army led 72-52 before the Eagles knocked down back-to-back three-pointers to end the scoring and set the final margin.
The Black Knights' victory snapped a 14-game losing streak at Bender Arena. It is the first road win over the Eagles since they joined the Patriot League.
Army plays its final regular-season home game on Wednesday, Feb. 27 when it hosts Holy Cross. Tip-off is set for 7 p.m. The Black Knights scored a road win in Worcester in the first meeting. The Black Knights will recognize seniors Ella Ellis, Jason Pancoe and Jordan Springer before the game.
Game Notes:  Army has won four in a row for the first time since 2008-09 … the team's four-game winning streak is the longest active streak in the Patriot League … the Black Knights have won six games on the road this season, the second-most since 1976-77 … Army had 19 assists, improving to 9-2 this season when handing out at least 15 helpers … Kyle Wilso moved into fourth place on Army's plebe scoring list … his 353 points are the most by an Army rookie since Derrick Canada scored 376 points in 1987-88 … Kyle Toth became just the third Army freshman to make 50-or-more three-pointers … Toth ranks second on the list with 51 behind Alex Morris's record total of 58 in 1992-93 …  Army improved to 38-9 since the start of 2004-05 when making at least 50 percent of its field goals … Ellis enters his final regular-season home appearance just three points shy of becoming the seventh Army player to reach 1,500 career points … Army is above .500 after 27 games for the first time since 2009-10 … that team lost its last two games to finish 14-15 …  two more regular-season wins, or one more regular-season win and a conference tournament victory would clinch Army's first winning season since 1984-85 (16-13) … Army will be going for a season sweep of Holy Cross … the two teams have played at least twice every year since 1983-84 (both were in the MAAC), but the Black Knights have never defeated the Crusaders twice in one season.