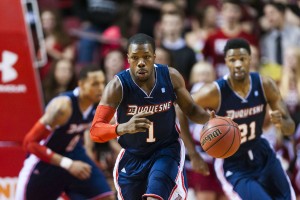 All that is good with Atlantic 10 men's basketball.
Galloway and Colter earn weekly honors
NEWPORT NEWS, Va. – The Atlantic 10 Conference has named La Salle senior Ramon Galloway its Men's Basketball Player of the Week and Duquesne freshman Derrick Colter the A-10 Rookie of the Week. The awards were announced Monday for games played during the week of Feb. 11 – Feb. 17.
Galloway averaged 19.5 points and 8.5 assists to lead La Salle to a 2-0 week for La Salle. The guard from Philadelphia set a career high with 12 assists against Saint Joseph's. It was the most assists by an Explorer since Julian Blanks had 15 on Feb. 6, 2001. Galloway also had 16 points on 5-of-8 shooting from the field and a perfect 4-of-4 at the line. Earlier in the week he scored 23 points, grabbed six rebounds and dished out five assists in an overtime win against St. Bonaventure. He was 7-of-8 at the line in that game.
Colter averaged 12.5 points, 10.5 rebounds and 4.0 blocks while shooting .706 (12-of-17) in two games, helping Duquesne get its first conference win. The guard from Forestville, Md., posted his second career double-double with 15 points and a career-high 15 rebounds to go along with three big late-game blocks to help DU end an 11-game losing streak in an 84-83 win at Temple. He followed that by scoring 10 points and blocking a career high-tying five shots in a 67-62 loss to Rhode Island.
Click here to read more and see the Honor Roll. 
Duquesne wins at Temple
PHILADELPHIA – Derrick Colter hit a pair of free throws with 2.9 seconds left as Duquesne snapped an 11-game losing streak with an 84-83 win over Temple at Liacouras Center.
Mumford, Rhode Island finish off Dayton in final seconds
Xavier Munford knocked down a contested 3-pointer with 3.3 seconds remaining to lift Rhode Island (7-16, 2-8 Atlantic 10) to a 75-72 victory over Dayton Wednesday.
Tempo Tuesday: No blues in St. Louis
Saint Louis grabs the top spot in the weekly efficiency margin category this Tuesday. VCU follows while LaSalle, currently on a roll, moves up to third. The Billikens are impressive on the offensive end while their defense, forcing opponents into a 24% turnover rate, is the most efficient in the A-10. They trail only VCU (10.8) with 9.2 steals per game. Right behind, to little surprise, is LaSalle at 9.1.
Billikens pound VCU
ST. LOUIS – Jordair Jett scored 16 points, including 12 straight during a key stretch in the second half, and Saint Louis took over first place in the Atlantic 10 Conference with a 76-62 dismantling of No. 24 VCU in front of a Billiken Blue Out crowd of 10,027 Tuesday night at Chaifetz Arena.
La Salle downs St. Bonaventure in overtime
OLEAN, N.Y. – Senior Ramon Galloway scored a game-high 23 points and La Salle outlasted a determined St. Bonaventure team, 69-66, in overtime on Wednesday night at the Reilly Center. Junior Tyrone Garland added 16 points for the Explorers, who improve to 17-6 and 7-3 in the Atlantic 10.
Bonnies fall to La Salle, face uncertain future 
La Salle, the only team in the Atlantic 10 Conference to defeat both VCU and Butler this season, were on their heels. The Bonnies trailed by three with just 2.8 seconds left when Eric Mosley was fouled on a 3-point attempt, giving him the chance to tie the game.
La Salle clinches share of Big 5 title with win over St. Joseph's
PHILADELPHIA – La Salle clinched at least a share of the Big 5 championship with a 76-64 victory over city rival Saint Joseph's in front of a sold-out crowd at the Palestra on Saturday afternoon. Junior Tyreek Duren tied a career-high with 29 points while senior Ramon Galloway had 16 points and a career-high 12 assists.
Richmond tops SBU in OT
UNIVERSITY OF RICHMOND, Va. – Junior Cedrick Lindsaytied a career-high with 22 points and senior Greg Robbins scored a career-high 20 as Richmond defeated St. Bonaventure 83-80 in overtime.
Dayton downs Xavier behind Dillard's 17
DAYTON, Ohio – The University of Dayton men's basketball team defeated rival Xavier 70-59 Saturday afternoon in front of a sold out crowd of 13,435 fans to claim the Blackburn/McCafferty Trophy. Dayton (14-11, 4-7) went 23-of-46 from the field (.500) while holding Xavier (14-10, 7-4) to just 20-of-51 (.392).
Xavier dominates Fordham
CINCINNATI – The Musketeers pulled off their second straight win by defeating the Fordham Rams 79-66 Wednesday night at Cintas Center. Five players scored in double figures, with freshman Semaj Christon leading the way with a game-high 19 points and five assists.
Temple slips by UMass
If Saturday was the final chapter in the Massachusetts-Temple basketball rivalry, it left fans wanting more toe-to-toe action from these schools.
VCU dominates GW
Less than 48 hours after VCU won a big conference matchup over UMass on Thursday night, the Rams ratcheted up the HAVOC once again, forcing George Washington into 25 turnovers en route to a dominating 84-57 for the Black & Gold. Junior Juvonte Reddic poured in a season-high 24 points on 11-of-13 shooting, while also grabbing 10 rebounds for his ninth double-double of the year. Senior Troy Daniels, junior Rob Brandenberg and freshman Melvin Johnson all added 11 points apiece in the victory.


Transfers making huge impact
Sanford averaged just over two points a game at Georgetown but has been a real find for Archie Miller and company this season averaging 12.6 points on 44% shooting (82% from the line). Sanford has helped make Dayton the league's best three point shooting team and can spell Dillard at the point position because of his ball-handling abilities. The former Hoya should return for his senior season as one of the better guards in the conference.
BPI talk
Joe Lunardi has Butler as a No. 5 seed in his latest Bracketology 

, but BPI projects the Bulldogs as a No. 12 seed and one of the last four at-large teams in the field.
Three of Butler's four losses have been by 15 or more points. Meanwhile, its three best wins according to BPI rank –- Indiana, Gonzaga and Marquette –- are by a combined five points. A win is a win, and that certainly counts for a lot, but even the Indiana win wasn't as strong a performance (by BPI "Game Score" standards) as Butler's 11-point win against North Carolina.
Wyatt, Galloway share Big 5 honors
PHILADELPHIA, Pa. – Temple senior Khalif Wyatt and La Salle senior Ramon Galloway were selected as Big 5 Men's Basketball Co-Players of the Week while Saint Joseph's Redshirt-Senior Forward Chatilla van Grinsven earned Big 5 Women's Player of the Week honors.
Nicholson rising on the rookie ladder
Nicholson started his second half strong, with 13 points for his fourth straight game scoring in double-digits. More impressive, he grabbed a career-high 12 rebounds, only his second double-digit rebounding game. He's now scored in double-digits in six of his last eight games and is averaging 11.9 points in February, fourth among rookies. He could see himself rising into the top half of the Ladder if he keeps up the scoring, and his steady playing time (26.3 mpg in February) should help in that regard.
Got anything to add to the Bounce? Please post it in a comment.