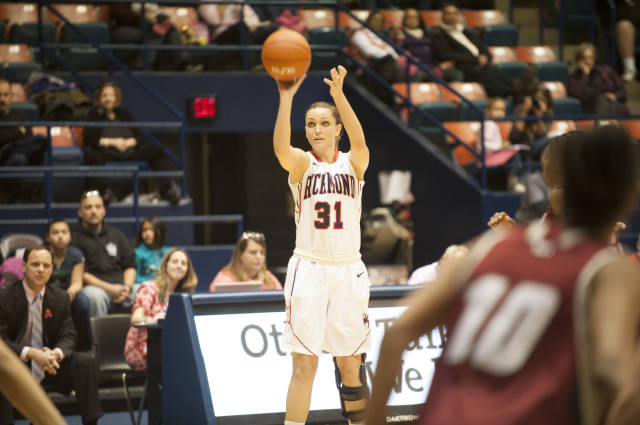 UNIVERSITY OF RICHMOND, Va. — Rachael Bilney became the 19th Spider to notch 1,000 points as Richmond dominated UMass, 81-63, Sunday.
The Spiders improved to 13-13, 3-7 while the Minutewomen fell to 3-21, 1-8 overall.
Four Spiders scored in double-figures, led by Kristina King's 17 points. Bilney added 16, while Becca Wann scored 15. Yazmean Burgess came off the bench to score a career-high 12 points, going 3-of-5 from the field, 2-of-2 from long range and grabbing three steals. Wann led Spider rebounding with nine boards.
Bilney's 1,000th point came from a familiar (and special) source when twin sister Sam dished to her for a layup at the 17:17 mark in the second half.
Bilney also recorded two three-point shots moving into sole possession of third-place on Richmond's all-time list with 186 career bombs.
Richmond made 28-of-65 (43.1%) of its field goals, while going 16-for-18 from the line. Richmond dished 13 assists while committing only 10 turnovers.
The Spiders grabbed 11 steals and scored 21 points off turnovers. The 81 points is the most point production from the Spiders in A-10 play this season.
The Spiders snapped a season-long four-game losing streak, as they recorded their first win since Jan. 27.
Richmond scored 40 first-half points, its most points in a half since scoring 50 against UNCG Dec. 8. Richmond only committed six first-frame turnovers, while registering 13 points off Minutewomen miscues.
NOTES: Richmond won its eighth-straight over UMass…The Spiders improved to 13-2 in the series, and 7-1 against the Minutewomen at home…Richmond improved to 8-4 at home and won its first game in the Robins Center since Jan. 27…The win was Richmond's largest margin of victory since a 104-69 win over UNCG Dec. 8.