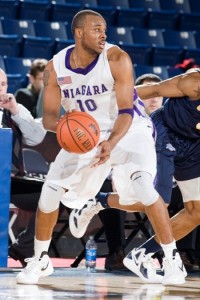 POUGHKEEPSIE, N.Y. – The Niagara Purple Eagles survived their trip to Marist with a 57-54 victory on a 3-pointer by sophomore standout Juan'ya Green with 1.5 seconds remaining in the National MAAC Game of the Week on ESPN3 on Friday night.
Green notched his second game-winning 3-pointer of the season. He had the game-tying 3-pointer in regulation and game-winning 3-pointer in overtime to beat Iona on Jan. 31.
Niagara (15-11, 11-4 MAAC) had possession with the game deadlocked at 54-54 when Green drained a 3-pointer in front of Niagara's bench with 1.5 seconds on the clock. A desperation three-quarter shot by Marist (7-19, 4-11 MAAC) was well short as time expired.
"It was the best ugly win of the year," head coach Joe Mihalich said. "It came at a crucial time against a hot team. Our defense was exceptional; our offense was as bad as it could be. This team proved once again it has an incredible will to win."
Green scored a game-high 20 points, including a game-high four 3-pointers.  Green also added another accomplishment to his young career. Green became the 42nd member and second sophomore (Garry Jordon) to join the elusive 1,000-point club on his first basket of the game. Green's basket came during NU's 9-0 run to take a 19-10 lead with 11:07 left in the first half.
The Purple Eagles, who led 24-22 at halftime, took a 48-41 lead on consecutive 3-pointers by Green with 7:46 remaining, and 40 seconds later, a pair of free throws by Green pushed the NU lead to 50-42. Marist, however, reeled off eight straight points to tie the game at 50-50 with 3:23 left.  The Purple Eagles built a 54-50 lead after Green made two free throws with 1:51 on the clock, but Marist tied the game at 54-54 when Chavaughn Lewis made one of two free throws with 34 seconds remaining.  That missed free throw set the stage for Green's late game heroics.
Marvin Jordan joined Green in double figures with 10 points. NU's leading scorer Antoine Mason missed his third straight game due to the injury he suffered in double overtime against Loyola.
Niagara, which remains in first place in the MAAC, visits Manhattan (10-15, 8-7 MAAC) on Sunday at 2 p.m. The game can be heard live on WWKB 1520 and online via Purple Eagles All-Access.