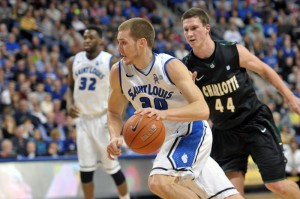 Courtesy of SLUBillikens.com
ST. LOUIS – Cody Ellis scored a game-high 18 points to lead four Saint Louis players in double figures, and the Billikens held off Charlotte's second-half rally to post a 76-58 Atlantic 10 Conference victory over the 49ers Saturday night at Chaifetz Arena.
With their seventh consecutive victory, the Billikens (19-5, 8-2 A-10) remained tied in the loss column with conference leader VCU, which improved to 9-2 in league play with a win over George Washington.
The Bills host VCU Tuesday, Feb. 19, at 8 p.m. in a first-place showdown at Chaifetz Arena.
Jordair Jett netted 16 points, while Jake Barnett buried a career-high four 3-pointers (4-of-5) en route to a career-high 13 points. Barnett's performance helped SLU amass 11 treys (11-of-27), the Billikens' second-highest total this season.
Dwayne Evans tallied 11 points and a team-high seven rebounds, while Mike McCall Jr. produced a game-high five assists to go with five rebounds.
Pierria Henry (15 points) and Willie Clayton (14 points, game-high eight rebounds) led Charlotte (18-7, 6-5 A-10), which lost for a fifth time in eight outings.
Charlotte used a 9-2 flurry to take a 22-19 lead, but Saint Louis finished the first half with an 18-6 run to take a nine-point lead to the locker room.
Jett ignited the spurt with a bucket, and the Bills took the lead on a three-point possession. Evans sank the front end of a 1-and-1, and his miss on the second free throw was rebounded by SLU. Jett's driving layup followed for a 24-22 Billiken lead.
After Charlotte pulled even with a pair of free throws, an Evans layup gave Saint Louis the lead for good, and Jett converted a free throw for a 27-24 advantage.
Darion Clark narrowed the lead to one with a running jumper, but Jett answered with a trey from the left wing to increase the margin to four.
Following a combined nine scoreless possessions by the two teams, the Billikens got a runner in the lane from Ellis, McCall Jr.'s baseline drive for a layup and Ellis' 3-pointer from the left wing to lead 37-28 at the break.
SLU extended the lead to 16 in the second half thanks to a barrage of 3-pointers. Barnett nailed three from beyond the arc, while Ellis and Kwamain Mitchell buried one apiece as the Billikens built a 56-40 cushion.
But SLU went cold, and Charlotte scored on six consecutive possessions in an 11-0 run that trimmed the Billiken lead to 56-51.
However, the 49ers could draw no closer. Evans broke a string of six scoreless possessions with a short turnaround jumper, and Ellis and Evans each made one of two free-throw attempts for a 60-51 advantage.
SLU converted five of its next six charity tosses to build the lead to 11, and the Billikens pulled away in the final moments.
In addition to an 11-1 advantage in 3-point field goals, the Billikens outscored the 49ers 21-9 from the foul line. SLU committed just 10 turnovers to Charlotte's 15 and outscored the visitors 21-8 in points off turnovers.