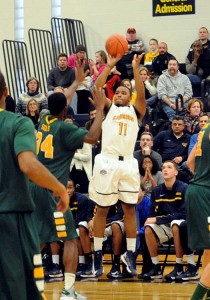 Courtesy of GoGriffs.com
JERSEY CITY, N.J. – Canisius senior Harold Washington scored a team-high 16 points junior Billy Baron scored 13 points, with eight coming in the second half, as the Golden Griffins went on the road and defeated Saint Peter's 68-59 Saturday afternoon in the Yanitelli Center. The win, Canisius' seventh win in its last 10 contests, moved the team to 17-10 overall and 10-6 in MAAC play, while the Peacocks fell to 8-18 overall and 3-13 in conference play.
Washington scored his 16 points after he went 5-for-10 from the field, 3-for-5 from 3-point land and 3-for-5 from the free-throw line to go with two assists, a rebound, a steal and a blocked shot. Baron added six rebounds and two assists to his 13-point effort, while senior Isaac Sosa scored 10 points and picked up three steals. Canisius got significant contributions from the bench in the win as well, as seniors Alshwan Hymesand Freddy Asprilla and sophomore Josiah Heath combined to post 20 points 13 rebounds in reserve action.
"This was a good team effort here today and we really got some great minutes from guys off the bench," Canisius head coach Jim Baron said. "I thought the effort we got from Alshwan, Josiah and Freddy was key, especially after Chris [Manhertz] got in foul trouble. We knew coming in here today it was going to be a dogfight. This program has not had a lot of success here recently and it was good to come in here and fight for a win. To have 10 league wins after getting just one last year is something that our guys should be very proud of."
The Griffs led by eight at the half and stretched that lead to as many as 11 points at 35-24 with 18:52 left in the game after Sosa stripped the ball away from Saint Peter's guard Yvon Raymond and cruised to the Canisius bucket for a lay-up. Saint Peter's would battled back and make it a ball game thanks to a 12-4 run over the span of 4:40, capped by a 3-pointer by guard Desi Washington that cut the Griffs' cushion to 39-36 with 12:58 left on the clock.
The Blue and Gold was able to push its hold back to five points at 43-38, but another Peacock run kept the home team in the game and a triple from the top of the key by Desi Washington gave Saint Peter's a 46-45 lead with 10:11 left in the contest. Saint Peter's lead would be short-lived however, as the Griffs scored the game's next seven points, highlighted by dunks from Jordan Heath and Josiah Heath in a 29-second span, to give Canisius a 52-46 lad with 7:50 left. Saint Peter's pushed back and trimmed the Griffs' lead to 58-54 with 3:15 left to play before Baron hit a tough jumper in the lane and Washington drove to the bucket and laid one off the glass to push Canisius' margin to 62-56 with 1:07 left to play. Down the stretch, Hymes and Baron went a combined 6-for-6 from the charity stripe in the game's closing 36 seconds to secure the Griffs' first win at Saint Peter's since Jan. 13, 2007 – a span of five games.
Desi Washington scored a game-high 20 points for the Peacocks and he also added five rebounds. Senior forward Darius Conley had a double-double with 10 points and 10 rebounds, while Chris Burke added 10 points to the losing cause for Saint Peter's, which shot 38.6 percent from the field and 30.4 percent from 3-point land.
Hymes' eight points off the bench gives him 982 for his career, which leaves him 18 points shy of joining the school's 1,000-career point club. Junior Jordan Heath had nine rebounds and three steals in the victory, while fellow junior Chris Manhertz scored six points to go with eight boards despite playing most of the second half in foul trouble. The Griffs shot 40.7 percent from the field and just 23.8 percent from 3-point land, but the Blue and Gold was able to turn 17 Saint Peter's turnovers into 17 points in the victory.
The Griffs close out their five-game road stretch next Saturday, Feb. 23, when the team plays at Vermont in the Ramada WorldWide BracketBusters. Tipoff in Patrick Gymnasium is set for 1 p.m., and the game will be broadcast live on ESPN3.
            Game Notes: This was the 68th all-time meeting between these two Jesuit schools and Canisius leads the series by a 37-31 count… Prior to Saturday's game, Saint Peter's had won nine of the last 10 meetings between these two schools, dating back to the 2008-09 campaign… The Griffs now have 10 league wins this season, the fifth time since the school joined the MAAC in 1989-90 where the team has collected double-digit conference victories, and the first time since 1998-99 when the team won 11 MAAC games… Canisius moved to 5-4 on the road in MAAC games this season, which marks the program's first winning road record in league play since 1996-97… The Griffs are 14-4 this year when leading at halftime… By holding Saint Peter's to 38.6 percent from the field, Canisius moved to 8-1 this season when its opponents shoot below 40 percent for a game… Washington has led Canisius in scoring five times this season and 20 times in his career… Hymes is now 29-for-31 from the free-throw line this season, which breaks down to 93.5 percent… Sosa needs one more 3-pointer to become the second Canisius player in school history to hit 80 3-point field goals in one season… Sosa's teammate Alshwan Hymes is the only other player in school history to hit 80 or more treys in one year.