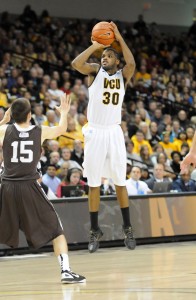 RICHMOND, VA — Junior Rob Brandenberg scored the first five points of the second half to spark a dominating 21-1 run out of halftime to key VCU's 86-68 victory over UMass on Thursday night in front of the 33rd straight sellout at the Verizon Wireless Arena. Sophomore Treveon Graham and freshman Melvin Johnson combined for 37 points on 14-of-25 shooting to pace a Black & Gold offensive attack that scored 85-plus for the eighth time this season.
In a game featuring two of the A-10's most fast-paced teams, the first half featured six ties and four lead changes with no team holding more than a six-point cushion at any point over the first 20 minutes.
With the game tied at 21, VCU scored the next seven points and look to take control after sophomore Jarred Guest laid in a bucket with 7:47 to play in the stanza.
However, Raphiael Putney and his UMass teammates wouldn't go away, closing the half with a 10-5 run and taking a 42-37 lead into halftime.
Brandenberg, who had a tough a first half, came out and helped set the tone for the second half, scoring five points in a 50-second span to quickly even the score at 42.
From there, VCU's HAVOC defense would hold UMass without a field for the first 6:23 of the second half and force seven turnovers over that span en route to a 21-1 run and a 58-43 lead.
The Rams' lead would never dip below 13 the rest of the way and would reach as high as 27 as Johnson scored 13 of his career-high 18 points in the second half, shooting 6-of-8 from the field during the stanza.
VCU reached the 20-win plateau for the seventh consecutive season, the longest such streak in program history. Coach Smart became the first coach in school history to post four straight 20-plus win seasons.
The Rams improved to 12-0 this year and 28-2 during Rob Brandenberg's career when the Cincinnati, Ohio native scores 11 or more points.
VCU also improved to 20-0 when it forces 15 or more turnovers this season.
Graham led all scorers with 19 points, marking his 18th straight game in double-figures.
The Rams have now won 44 of their past 46 outings when they score 65 or more points.
With 86 points on the night, VCU moved to 14th in the country in scoring offense with 77.8 points per game.