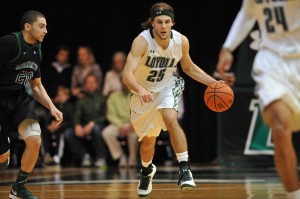 Courtesy of LoyolaGreyhounds.com
BALTIMORE – Loyola University Maryland men's basketball celebrated their six seniors on Thursday night, and prior to the postgame ceremony, seniors Robert Olson, Julius Brooks and Anthony Winbush came up big in the Greyhounds' 68-64 victory over visiting Canisius College in Metro Atlantic Athletic Conference action.
Olson led all players with 18 points and five steals, while Brooks made all eight of his shots – five from the field and three from the free-throw line – tallied 13 points and a team-best six rebounds. Winbush made a critical 3-pointer later and hit two free throws with 4.8 seconds on the clock to seal the victory.
Dylon Cormier, a junior added 17 points, three assists and three steals, while graduate student Erik Etherly tallied nine points. Also honored after the game were senior Luke Wandrusch and manager Bryan McCarthy.
Brooks gave Loyola (18-9 overall, 10-5 MAAC) a 10-point lead, its largest of the game, with a layup off one of R.J. Williams' four assists with 11:22 remaining.
Canisius (16-10, , however, cut the deficit to four, 53-49, on a Billy Baron three less than three minutes later. A traditional 3-point play by Chris Manhertz after an Etherly basket for Loyola closed the gap to three, 55-52, but Olson knocked down a three to push the Greyhounds' lead back to six.
On the next possession, Brooks made it 60-52 in Loyola's favor with a pair of free throws, but Canisius then scored four in a row, pulling within four on a Jordan Heath layup at 5:32.
It was Olson again, this time draining a three off a Winbush assist to put the Greyhounds back up seven.
The Golden Griffins edged back to within four on a Manhretz free throw with 3:00 showing, but Cormier found Winbush open for a three from the top left at 2:37, extending the advantage to 66-59.
Winbush's three, however, was the last field goal Loyola would score in the game.
Manhertz scored off an offensive rebound with 2:14 left, and Baron hit an open three with 48 ticks remaining. That shot, which gave Baron 14 points in the game, closed Canisius' deficit to two, 66-64.
Cormier missed a twisting layup on the offensive end for Loyola, but a Baron three went off he back of the rim with just over seven seconds left. Winbush corralled the rebound and was fouled with 4.8 seconds on the clock. He made both from the line to seal the victory.
Loyola shot 50-percent from the field (26-of-52) in the game, and the Greyhounds were good on 83.3-percent (10-of-12) from the free-throw line after making just 46.2-percent on Sunday in a loss at Marist College.
The Greyhounds also held Canisius to 6-of-21 (28.6-percent) from 3-point range. The Golden Griffins entered the game ranked second in the NCAA with 9.5 per game from behind the arc. In the teams' first meeting on January 31 in Buffalo, Canisius was 13-of-19 from long distance.
Loyola is back in action on Saturday, February 16, for a 7 o'clock game in Albany, N.Y., against Siena College.