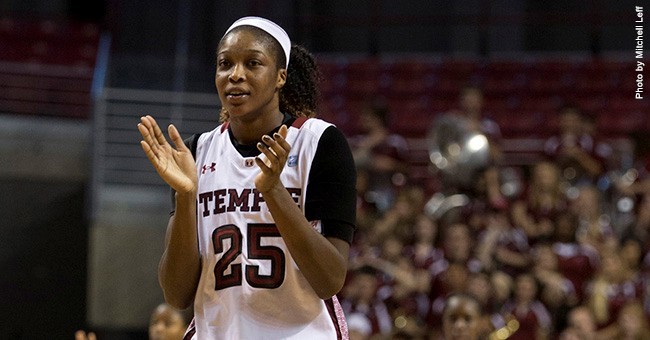 PHILADELPHIA – With a 12-1 run down the stretch of the second half, Temple women's basketball was able to put the game out of reach for Rhode Island and come away with a 56-45 win on Wednesday afternoon. Sally Kabengano scored 14 points to lead the Owls (12-12, 5-4), while Victoria Macaulay notched her 10th double-double of the season with 13 points and a game-high 10 boards.
Macaulay added to her strong performance with six blocks, and has now recorded at least six of them in three of Temple's last four games. She is one block away from tying for fifth all-time in program history (currently with 187).
Kabengano hit 6-of-7 from the field and had four steals, while Tyonna Williams also scored in double figures with 12 points. She led all players with five steals and five assists. As a team, the Owls recorded a season-low nine turnovers.
The Rams (5-18, 0-8) got a team-high 12 points from Brianna Thomas.
"This is a good win for us because it finally got us to the .500 mark and that's been our goal for the last two weeks," said Temple head coach Tonya Cardoza. "I felt like we came out on fire, but we started celebrating too early. Rhode Island is a tough team. They work extremely hard and their record doesn't indicate how much fire and passion they play with. In the second half we bared down a lot better, and when we needed stops down the stretch, we came up with them."
Macaulay hit the first three-pointer of career during a 13-0 run early in the first half that put Temple up 19-6 less than eight minutes in.
"We do shooting drills, and Vic consistently knocks them down," said Cardoza. "I probably told her not to shoot them (a few years ago) but I haven't since then. To be honest, I was shocked that she hadn't taken any…in practice, she makes them consistently in shooting drills."
The run also included Roxas going 3-of-3 at the line after being fouled on a trey attempt, and a pair of buckets by Kabengano. After the Owls matched that lead at 22-9, the Rams began to respond.
Rhode Island used a 13-3 run to narrow the 13-point deficit all the way to three, 25-22 near the three-minute mark. Temple scored six of the final eight points of the half to widen the margin back to five by halftime, 31-26.
Kabengano led all players with eight points in the first half, going a perfect 4-of-4 from the field, while also recording three steals.
The Rams opened the second half with a 6-0 run to take their first lead since the first minute of the game, 32-31. Three more lead changes followed, but once Thames hit a layup for a 35-34 lead at 13:19, the Owls never trailed again.
The margin was a single point on two more occasions, but from near the eight-minute mark to the three-minute mark, Temple used a 12-1 run to put Rhode Island out of reach. Rateska Brown hit 4-of-4 at the line in that stretch, and the run ended with back-to-back baskets by Kabengano.
Temple's lead was as many as 14 in the remaining time, before the Rams cut the final margin to 11.
The game was the 11th annual School Day contest for Temple, and over 2,000 local youths came out to watch the Owls play.
"It was great (having the kids there)," said Cardoza. "They were so loud that sometimes we had to come up with signs because they couldn't hear each other. That's always great though, to play in front of that kind of crowd. They were so enthusiastic throughout."
"It's always awesome," said Macaulay. "Every single year I've been here it's a great experience having them in the crowd cheering for us. That's the most crowd we ever get! It's always an awesome time."
Temple's will travel across town to Saint Joseph's for its next game, a 2:00 p.m. contest on Sunday, Feb. 17 that will air live on CBS College Sports.