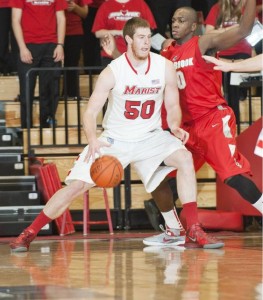 All that is good with Metro Atlantic Athletic men's basketball.
Kemp and Stores earn weekly awards
Adam Kemp had a breakout week of play with a pair of stellar outings for the Red Foxes in back-to-back wins versus 2012 NCAA Tournament teams – Thursday at Iona and Sunday against Loyola. The junior center had a record-worthy performance in Thursday's 105-104 double overtime win as he became the first Division I player to register 29 points, 16 rebounds and seven blocks in a game since Rider's Jason Thompson went for 31 points, 16 rebounds, and seven blocks in January of 2007. Not wanting to let down his team or home fans at McCann Arena on Sunday, Kemp followed up his effort with 23 points, 13 rebounds and two blocks against Loyola in the Red Foxes' 69-64 victory. These back-to-back outings of 20+ points and 10+ rebounds were the first by a MAAC player during the 2012-13 season. For the week, Kemp averaged 26.0 points, 14.5 rebounds and 4.5 blocks in 41.0 minutes of action per game, while shooting a sterling 70.8 percent (17-24) from the field.
Rivalry week continues with seven MAAC contests
Rivalry Week Presented by Wendy's – top rivalries in men's college basketball from February 11-18 – will continue this week with telecasts involving six of the top seven ranked teams. ESPN will televise the top two squads Saturday, Feb. 16: No. 1 Indiana against Purdue at 2 p.m. and No. 2 Duke at Maryland at 6 p.m. The weekly ESPNU ACC Sunday Night Basketball series on February 17 will showcase No. 3 Miami at Clemson at 6 p.m.
Baron and Canisius trump Niagara
Billy Baron posted a career high as the Canisius Golden Griffins (16-9/10-5) avenged an earlier defeat with a 77-70 triumph over the Niagara Purple Eagles (14-11/10-4) in Metro-Atlantic Athletic Conference action Sunday afternoon at the Taps Gallagher Center.
Niagara's too talented to continue skid
The 174th all-time meeting between Niagara and Canisius seemingly mirrored the 173rd meeting from the opening minutes. Early frustrations for the Purple Eagles soon turned to ferocious right and left hooks to the faces of the Golden Griffins.
Canisius displays resilience in victory over Niagara
Despite it all and being on the road, against the conference's first place team in a gym where Canisius hasn't won in a decade, the Griffs came away with a crucial 77-70 victory over the Niagara Purple Eagles.
Niagara's Mihalich a coaching professor
As evident from his playing days at LaSalle in the late 1970's under the legendary Paul Westhead – he helped the Explorers to two NCAA appearances – he is as tough-minded of player he is now as coach.
Marist wins dramatic overtime game at Iona
NEW ROCHELLE, N.Y. – The Marist men's basketball team won a dramatic come-from-behind victory in double-overtime at Iona by a final score of 105-104. The Red Foxes fought back from a 12-point deficit in the second half to survive and eventually earn the one point win;  Marist's highest scoring victory in 17 years.

Etherly's 25 spurs Loyola over Siena
BALTIMORE – Erik Etherly scored a season-high 25 points, and Robert Olson logged his first career double-double with 11 points and 10 rebounds, as Loyola University Maryland pulled away in the second half for a 63-51 Metro Atlantic Athletic Conference victory over visiting Siena College.
Click here to view highlights.
Rider knocks off Niagara
Junior Anthony Myles (Dover, DE/Poly-Tech) scored 23 points, tying his career-high, and grabbed seven rebounds. "We know Niagara is very talented," Myles said.  "They have a lot of firepower."
Anosike grabs 1,00th
Saint Peter's out-scored Siena 40-23 in the second half, rallying from a seven-point halftime deficit to post a 72-62 win Sunday afternoon in Jersey City. Siena's O.D. Anosike grabbed his 1,000th career rebound in the first half, becoming the third Saint and ninth MAAC Player to reach that benchmark.
Anosike joins MAAC list of elite rebounders
Numbers are often a good measure of one's ability, and in college basketball the number 1,000 has always carried a sense of special accomplishment.
We still recognize players who score 1,000 points over a career, but that scoring number, particularly in light of the increased number of games teams can play in the current era, has become a measure of being very good but no longer great.
Read more…
MAAC has history of national scoring leaders
Iona's Lamont "Momo" Jones currently ranks third nationally in scoring on the Division I level, averaging 21.9 points per game.
But the Gaels' senior guard isn't likely to catch Erick Green, a senior guard at Virginia Tech (who currently averages 25.0 ppg.) and become the fourth player from the MAAC to lead all college scorers.
Alex Franklin to play in Poland
Now in his third professional season, former Siena Saint Alex Franklin is heading to Poland where he will play for AZS Koszalin of the TBL, Poland's top league.
Franklin spent a brief time in Germany with the Fraport Skyliners to start this season before heading to his most recent stop playing for Soles de Mexicali of the LNBP, Mexico's top league.
Manhattan storms past Fairfield
FAIRFIELD, CONN. – The Jaspers have become the hottest team in the Metro Atlantic Athletic Conference. Manhattan earned its third straight victory with a 62-40 triumph over Fairfield (15-11-, 7-7) at Alumni Hall on Tuesday. Sophomore forward Donovan Kates  had 15 of his game-high 17 points in the second half helping Manhattan snap the Stags' five game win streak. Winning four of the last five contests, Manhattan (9-15, 7-7)  now looks forward to a highly anticipated meeting with local rival Iona at Draddy Gymnasium on Friday before a national television audience on ESPNU.
ESPN Rivalry week features UNITE hosts for Iona-Manhattan
RIVERDALE, N.Y. – ESPN will be sending the hosts of its popular weeknight UNITE show to Riverdale on Friday to announce the Manhattan men's basketball contest with Iona live on ESPNU. Danny Kanell (@Dkanell13), Reese Waters (@ReeseWaters) and Marianela Pereyra (@MARIANELATV) take their late-night show on the road joining play-by-play announcer Doug Sherman to call the national broadcast at 7 p.m. as part of ESPN's Rivalry Week.
Tempo-Free MAAC: Surging Jaspers
The craziness you see on the court in the MAAC is being reflected off of it too in the tempo-free numbers. No team has distinguished itself this season.
One team that was starting to pull away was Fairfield. Then the Stags scored 40 points in 66 possessions against Manhattan's stifling defense.
Got anything to add to the Press Break? Please post it in a comment.