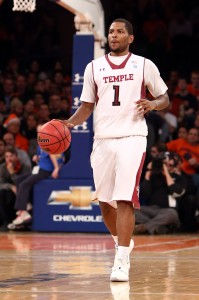 All that is good with Atlantic 10 men's basketball.
Wyatt and Christon nab weekly honors
NEWPORT NEWS, Va. – The Atlantic 10 Conference has named Temple senior Khalif Wyatt its Men's Basketball Player of the Week and Xavier freshman Semaj Christon the A-10 Rookie of the Week. The awards were announced Monday for games played during the week of Feb. 4 – Feb. 10.
Wyatt averaged 22.5 points per game, leading Temple as the Owls top scorer in a pair of one-point TU wins. The guard scored 25 points, dished out four assists, made two blocks and two steals in 89-88 win over Charlotte. He hit a late free throw that gave Temple a four-point lead, allowing the Owls to survive a 3-pointer by Charlotte. A Norristown, Pa., native, Wyatt followed that with 20-point performance at Dayton. He had a 3-pointer with 7.1 seconds left that capped a 14-3 run and put Temple ahead by one and sealed the eventual victory. Wyatt is averaging 24.3 points per game over last nine outings and he leads A-10 with 18.9 points per game. It was Wyatt's second consecutive Player of the Week award and third overall this season.
Christon scored a team-high 16 points to go with a game-high eight assists, a career-high seven rebounds and two steals with only one turnover in Xavier's win at Duquesne. The guard from Cincinnati, Ohio, Christon  claimed his fifth Rookie of the Week nod, shooting 5-of-6 (.833) at the line and was 5-for-14 (.357) from the field in the Musketeers' only game last week.
Click here to read more and see the weekly honor roll. 
#Bonnies overcome adversity to claim crucial comeback win on road
KINGSTON, R.I. – Trailing 53-46 with less than eight minutes remaining, St. Bonaventure (11-11, 4-5 Atlantic 10 Conference) overcame some road adversity and claimed a 67-61 comeback victory over Rhode Island (6-16, 1-8 A-10) Saturday night at the Ryan Center to split its week-long road trip.
Despite no electricity, heat or hot food on game day, St. Bonaventure earns a road win
"You try to make the best of a bad situation," Schmidt said. "It wasn't ideal, but there are people out there who are starving. That's how you have to look at it."
3-point barrage propels La Salle past Fordham
PHILADELPHIA – The La Salle men's basketball team tied a school record with 18 three pointers in an 89-53 victory over Fordham on Saturday afternoon at Tom Gola Arena. Junior Sam Mills led all scorers with a career-high 21 points (7-8 3PT) and senior Ramon Galloway added 19 points (6-9 FG, 5-7 3PT, 2-2 FT) and six assists.
Fleeing a grim reality, and returning to rise above it
PHILADELPHIA — It was still early, but the crowd noise at Tom Gola Arena had begun to taper, and Gerald Galloway could sense things were not heading La Salle's way.
Richmond stopped by St. Louis
UNIVERSITY OF RICHMOND, Va. – Saint Louis held Richmond to 23.3 percent shooting in handing the Spiders just their second home loss of the season, 56-46 Saturday night in front of 8,121 fans in the Robins Center.
Butler cruises past St. Bonaventure
Four Butler players scored in double figures to help the No. 14 Bulldogs beat St. Bonaventure 77-58 for their conference-leading sixth win of the season. Senior guards Rotnei Clarke and Chase Stigall combined for 29 points and accounted for six of Butler's 11 3-pointers.
Nicholson selected to play in Rising Stars Challenge
Former St. Bonaventure standout Andrew Nicholson will spend his All-Star weekend among the NBA's best in Houston.
Tempo Tuesday: Mass Efficiency
Saint Louis still remains on top in efficiency margin. Moving up the ranks just behind the Billikens is UMass. The Minutemen are getting it done by shooting a 51% efG percentage while surrendering just 45%, one of the best marks in conference play. Offensively they show only a 17% turnover rate which is crucial in establishing an efficient offense. While they do not force a great deal of turnovers on the defensive end (19% defensive TO rate), Derek Kellogg's group is second in the conference with 5.6 blocked shots per game.
UMass fends off St. Joseph's rally
AMHERST, Mass. – The UMass men's basketball team held off a second-half Saint Joseph's rally and cruised to a 80-62 win, Saturday evening on the 20th Anniversary Celebration of the Mullins Center. The Minutemen set a season-high with 10 dunks helping to a 42-20 point advantage over the Hawks in the paint. Terrell Vinson was one of four Minutemen in double-figures, leading the way with 18 points.
VCU picks up big road win at Charlotte
Junior Rob Brandenberg scored 14 of his 21 points in the second half and VCU forced Charlotte in 17 turnovers en route to a hard-fought 68-61 road win at a hostile Halton Arena. Brandenberg went 7-of-12 from the field, including 3-of-5 from long range, while classmate Juvonte Reddic poured in 14 points on 6-of-9 shooting. VCU's defense held the 49ers to just  one three-pointer, while capitalizing on Charlotte's mistakes to the tune of 23 points off turnovers on the evening.
An inside look into VCU's unmatched HAVOC defense
When I was in Richmond reporting the VCU story that appears in Sports Illustrated, the Rams were hosting their first-ever Atlantic 10 game, against Dayton. It wasn't a guaranteed showcase for Havoc, VCU's press-after-every-make (and dead ball) defense, because Flyers' senior point guard Kevin Dillard seemed like a dude who could deal with pressure. He was coming off a 27-point, 10 assist, two-turnover showing against UAB. He had 24 assists against just eight turnovers in his previous three games.
And Dillard believed in his ability to handle Havoc. In a game preview story in the Dayton Daily News, he said of VCU's press, "We've just got to take care of the ball. That doesn't scare me. Being at this level, you've seen just about every press you can play against. We've just got to stay sharp, communicate and attack."
Dayton takes down St. Joseph's
DAYTON — The University of Dayton men's basketball team bounced back from a tough week and snapped a two-game losing streak, taking took the Saint Joseph's Hawks 60-54 in front of 12,453 Flyer Faithful Wednesday night at UD Arena.
Wyatt brings Temple back from 19 down to win at Dayton
DAYTON, OHIO – Everyone at UD Arena knew that Khalif Wyatt was going to take the final shot for the Owls, but the senior guard was not to be denied.   Despite being tightly-guarded by Vee Sanford, Wyatt drained a long three with 7.1 seconds remaining to cap an improbable comeback and lead the Owls to a 72-71 win at Dayton Saturday.   With the win, Temple improves to 16-7 and 5-4 in the Atlantic 10 Conference.  Dayton falls to 13-10 and 3-6.

Xavier shakes off Duquesne, earns 73-65 victory
PITTSBURGH – Junior Isaiah Philmore's career-night and a big second-half run lifted the Xavier men's basketball to a 73-65 road victory over Duquesne in front of a crowd of 6,511 at the CONSOL Energy Center on Saturday night.
Read more…

GW falls to Butler
WASHINGTON – Playing before a standing-room only capacity crowd, George Washington men's basketball roared back within a point with 44 seconds to play, but #14 Butler held on to edge the Colonials, 59-56, at the Charles E. Smith Center on Saturday.
Got anything to add to the Bounce? Please post it in a comment.