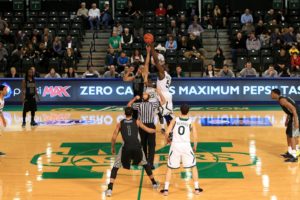 All that is good with Metro-Atlantic Athletic men's basketball.
Barrow, Laury and Stores claim weekly honors
Maurice Barrow came off the bench to record his second double-double of the year with a career high with 25 points and 10 rebounds in a win over Rider. The junior made eight of 13 field goals and a personal-best nine free throws in as many attempts. He also added two assists and two steals in the game. Barrow also played a season-high 37 minutes in the win.
David Laury extended his double-double streak to five games in his two appearances for the Gaels this weekend. Laury averaged 17.5 points, 16.0 rebounds, 4.0 assists and 2.0 blocks at Niagara and Canisius. He shot 57.1% (12-of-21) from the field and converted 11-of-16 free throw attempts. Laury led the Maroon & Gold with 24 points and 16 rebounds in a heartbreaking OT loss against the Purple Eagles Thursday night. He then posted 11 points, 16 rebounds and five assists with just one turnover vs. the Golden Griffins Saturday. Despite appearing in just 13 games this season, Laury is second in the MAAC with seven double-doubles in 2012-13.
Three earn TV spots for 2013 Ramada BracketBusters
Edison, N.J. – Three MAAC men's basketball teams earned a televised game as part of their matchups for the 11th annual ESPN Ramada BracketBusters, which will take place Feb. 22-24.
Baron leads as Canisius harnesses the Gaels
Baron scored eight of the Golden Griffins' last 12 points. His three free throws with 58 seconds remaining gave the Griffs a lead it never surrendered.
Niagara nabs thrilling comeback win over Iona
NIAGARA UNIV., N.Y. – Juan'ya Green' s last-gasp 3-pointer with one second left in overtime handed the Niagara Purple Eagles a dramatic 93-90 victory over the Iona Gaels in the National MAAC Game of the Week on Thursday.
Fairfield captures fourth straight win
ALBANY, N.Y. — Three Fairfield University student-athletes reached double figures with Derek Needham's 18 points leading the way as the Stags won their fourth straight game with a 64-54 win over Siena College. The victory brought Fairfield back to the .500 mark in Metro Atlantic Athletic Conference (MAAC) play at 6-6 and improved its overall record to 14-10. Siena fell to 6-17 overall and 4-8 in conference games.
Siena knocks off Manhattan at home
If you're going to play your best basketball in March, February is a great place to start. The Saints turned in their most complete effort of the season, and turned back a late Manhattan rally in a 66-63 MAAC win in Albany Friday night.
Brooks beats buzzer in Loyola's 2OT victory over Niagara
NIAGARA UNIVERSITY, N.Y. – Julius Brooks scored on a left-handed layup as the buzzer sounded, and Loyola University Maryland defeated Niagara University, 89-87, in double overtime on Saturday night in Metro Atlantic Athletic Conference play.
Healthy and assertive, Myles leads Rider's attack
Freshly minting a season-high and then career-high 21-point performance against Metro Atlantic Athletic Conference power Iona on Feb. 15, 2012; his confidence was sky high as a Boeing jet.
Brown dominates in Manhattan win over St. Peter's
RIVERDALE, N.Y. – Rhamel Brown put the Jaspers on his back as he exploded for 21 points, 10 rebounds and seven blocks to lead Manhattan past Saint Peter's (7-15, 2-10) on Sunday at Draddy Gymnasium. Sophomores Donovan Kates and RaShawn Stores added 10 points apiece as Manhattan picked up its fourth win in seven home games this season.
Marist defeated by Rider in home MAAC contest
POUGHKEEPSIE, N.Y. — The Marist men's basketball team suffered a 64-58 loss to Rider in a Metro Atlantic Athletic Conference game at McCann Arena on Sunday afternoon.
 Canisius holds on to defeat Loyola
Jordan Heath registered a near-triple-double as Canisius (14-8/7-4) built a 21-point lead and held on to defeat the reigning conference champion Loyola Greyhounds (15-8/7-4), 91-79 in Metro-Atlantic Athletic action at the Koessler Athletic Center.
Read more…

Beilein third former MAAC coach to reach No. 1
The Michigan men's basketball team recently spent a week as the nation's top-ranked team before it suffered a loss Saturday at Indiana.
But, the Wolverine's No. 1 rating was rare time at the top for a program directed by a former MAAC men's coach.
Tempo-free MAAC
How much does experience really matter? You know, that's a great question. It seems pretty intuitive that if you have an experienced team they'll be better in close games and you might be able to out-perform your efficiency margin.
Is that the case in the MAAC this season? No way. The youngest team in the conference according to KenPom's experience metric is Niagara. The Purple Eagles just happen to own the best efficiency margin and be the second most lucky team in the league according to wins versus expected wins in league play. Siena, the luckiest team, is also the second youngest.
MAAC tightening up
MAAC BracketBusters draw – Three MAAC teams got games on television in the premiere ESPN slots as Canisius, Niagara and Iona will all be on TV somewhere. The non-televised games are of high quality as well. Manhattan heads to Buffalo, Albany is at Fairfield and Loyola (MD) is playing Tennessee St. It seems to me that the conference as a whole did an excellent job.
Ranking the televised BracketBusters
There's a lot of intrigue here. Indiana State's profile is all over the place. The Sycamores have beaten Ole Miss, Miami (FL) and Wichita St. They've also lost to Southern Illinois, Morehead St. and recently Drake. If this type of up-and-down play reminds you of Iona, well you're not the only one. This is definitely going to be a tough game, but it's a winnable one for the Gaels and one that could help put Iona back in the spotlight.
Inside Manhattan Basketball
Have something to add to the Press Break?  Please post it in a comment.