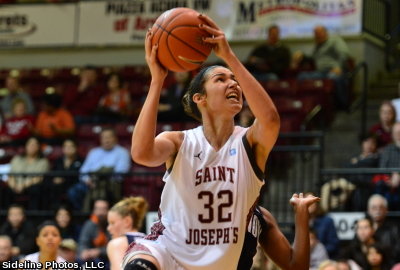 KINGSTON, R.I. – Shooting 55.4 percent from the field, the Saint Joseph's women's basketball team downed Rhode Island, 78-51, Saturday afternoon at the Ryan Center. Led by redshirt senior forward Chatilla van Grinsven's (Helmond, Netherlands/Dr. Kippenberg College) 18 points and nine rebounds, the Hawks won their seventh straight, improving to 15-5 overall and 6-0 in the Atlantic 10 for the first time since 2003-04.
Taking control from start, the Hawks ran out to a 13-2 edge. Converting on six of its first seven possessions, SJU took a double-digit lead on a pair of free throws by van Grinsven just 3:31 into the game.
Hitting 14-of-28 from the floor Saint Joseph's opened up 21-point lead in the opening period before taking a 38-21 lead into halftime on a jumper at the buzzer by senior Mireia Vila (Cabrera Del Mar, Spain/Escola De Santa Anna) . The Hawks, who also knocked down 8-of-9 from the foul line in the half, held Rhode Island to just 26.7 percent shooting (8-of-30) over the opening 20 minutes.
In the second half, the Hawks continued to hold the Rams at a distance. Converting 60.7 percent of its shots (17-of-28), Saint Joseph's outscored Rhode Island 40-30 in the stanza, allowing the Rams to get no closer than 14 points, while opening up a 32-point advantage in the final minutes.
For the game, the Hawks hit 31-of-56 from the field, including 4-of-15 from behind the arc (26.7 percent) and 12-of-14 from the foul line (85.7 percent).
At the other end, Rhode Island was held to 32.1 percent shooting (18-of-56), despite being led by a game-high 21 points from Tayra Melendez.
Individually, junior guard Erin Shields (Broomall, Pa./Archbishop Carroll) was the second Hawk in double figures, scoring 14 points, while redshirt sophomore Natasha Cloud (Broomall, Pa./Cardinal O'Hara) added eight points off the bench.
The Hawks return to action Wednesday at VCU. Game time is set for 7 p.m.