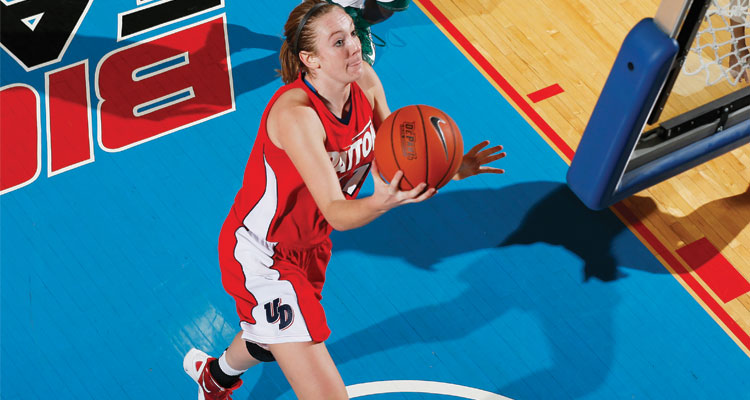 RICHMOND, Va.  – Four Flyers scored in double figures as #17/15 Dayton women's basketball downed Richmond 72-64 Sunday at the Robins Center in an ESPNU nationally-televised game. The Flyers improve to 19-1 overall and 7-0 in the Atlantic 10. Richmond is now 12-11 overall, 2-5 A-10. The game was close down the stretch as the Flyers got into foul trouble.
Senior Olivia Applewhite tied her career high for points and led all scorers with 18. She notched her fourth career double-double by adding a game-high 11 rebounds. With the help of Applewhite UD outscored the Spiders 46-28 in the paint.
Sophomore Ally Malott also had a double-double, the third of her career, with 12 points and 11 rebounds. Sophomore Andrea Hoover added 16 points and 7 rebounds. Freshman Kelley Austria rounded out the double-digit scoring for the Flyers with 11 points, all scored in the first half.
Freshman Amber Deane contributed 7 points and 8 rebounds. Senior Sam MacKay dished out a game-high 6 assists.
The Flyers led 43-35 at the half and led by as many as 13 points with 15:09 to play in the game after an Applewhite layup pushed the lead to 51-38.The Spiders went on a 6-0 run over a two-minute span to cut the lead to 61-54 with 4:13 left to play. An and-one by Hoover at the two-minute mark switched the momentum back to the Flyers. After a pair of Malott free throws UD was up 69-57 with 1:16 remaining.
Dayton outrebounded Richmond 47-38 and have won that battle in 18 of its 20 games this season.
UD hosts Xavier on Thursday, Feb.7 at 7 p.m. at UD Arena. Sophomore Andrea Hoover and the Flyers will GO GREEN for Bile Duct Cancer Awareness. Kelly Green is the color for Bile Duct, liver, and gallbladder cancers.