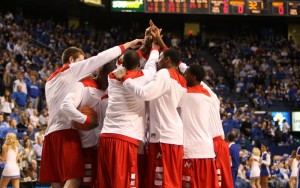 Courtesy of GoRedFoxes.com
BRIDGEPORT, Conn. – The Marist men's basketball team fell on the road to a hot shooting Fairfield team by a score of 71-37 in a Metro Atlantic Athletic Conference game at Webster Bank Arena on Thursday night.
Red-shirt junior forward Anell Alexis(Hillsborough, N.J.) led Marist with 10 points. Alexis shot 4-for-5 from the field and 2-for-2 from three-point range. Junior center Adam Kemp (Sherill, N.Y.) had six points and a team-high six rebounds.
Fairfield shot .592 from the field (29-for-49) and .500 from three-point range (11-for-22). The Stags were led in scoring by Josip Mikulic with 16 points, which included four three-pointers.
Though the Stags came into Thursday night's game on a five-game losing streak, Fairfield played the first half like the team that went 6-1 in December. Fairfield jumped out to an early 11-3 lead by the 15:54 mark.
Marist quickly got back into it with a 7-0 run as Chavaughn Lewis (Queens, N.Y.), Phillip Lawrence (Baltimore, Md.) and Alexis connected for baskets to tighten the game to an 11-10 score.
A 24-6 response by Fairfield over the next 8:25 broke the game open and set Marist back 35-16 at 4:54.
The hot outside shooting by the Stags continued for the remainder of the half. After 20 minutes of action, Fairfield held a 41-21 lead on the strength of 60.7 percent (17-28) field goal shooting and 50.0 percent (5-10) accuracy from three-point range.
The second half unfolded with a similar storyline as the Stags deposited 57.1 percent (12-21) of their shots from the field and 50.0 (4-8) from distance. The hosts would extend their lead to a final score of 71-37.
Marist will return to action on Sunday, when the Red Foxes host Siena at McCann Arena. Tip-off is set for 2 p.m. The contest will be televised by Time Warner Cable Sports.