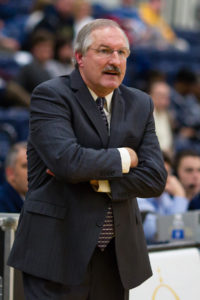 Courtesy of GoGriffs.com
BUFFALO, N.Y. — Canisius senior Isaac Sosa scored a season-high 25 points on the strength of five makes from 3-point land and fellow senior Harold Washington scored 12 points to go with five assists as the host Golden Griffins defeated Manhattan 64-60 Thursday night in the Koessler Athletic Center. The win moves Canisius to 11-7 overall and 4-3 in MAAC play, while the Jaspers slipped to 5-12 overall and 3-4 in league action.
The victory stands as the 400th career win for Canisius head coach Jim Baron, who is in his 26th season as a head coach at the Division I level and his first year as the leader of the Griff program. Baron is just the second Canisius coach in school history to earn 400 career wins, joining with former Canisius head man and current Michigan bench boss John Beilein. He is also just the fifth coach in the history of the MAAC to reach 400 or more Division I coaching wins, joining a group that includes Beilein, Mike Deane (Siena), Pat Kennedy (Iona) and Tom Penders (Fordham).
"I just want to thank all the people who I have worked with along the way that gave me a chance to coach at this level," Baron said. "I have been fortunate to work a lot of great people at St. Francis (Pa.), St. Bonaventure, Rhode Island and here at Canisius. There's been a lot of tough battles to get here, but it is an honor to be doing this for as long as I have at some really special places."
Sosa helped fuel the Griffs' win on Thursday, which snapped the program's two-game losing skid. He went 8-for-13 from the field, 5-for-10 from 3-point land and 4-for-4 from the free-throw line, with two of those makes coming with eight seconds left to seal the win for the Blue and Gold. Washington added two steals to his final stat line, while junior Billy Baron was good for 10 points, three rebounds, three assists and one steal in 40 minutes of play.
Canisius led 60-47 with 3:57 left in the game after Washington nailed a pair of free-throws to give his team a 13-point lead. From there, the Jaspers went on an 11-0 run over the next 3:07 to make it a two-point game at 60-58, capped by a traditional three-point play by Manhattan center Rhamel Brown. Canisius junior Chris Manhertz pushed the Griffs' hold back to four points at 62-58 with 18 seconds after he made two charity tosses, but Manhattan made it a two-point game moments later when Michael Alvarado raced down the floor and laid one off the glass for two of his 18 points to make the score 62-60 with 10 seconds left. On the ensuing inbounds, Sosa was fouled and he strolled to the line and hit a pair from the stripe to seal the win for Canisius, the squad's seventh home victory of the year.
"We knew coming into this game that it was going to be a battle, that's what this league is all about," Baron said. "Manhattan has some really good athletes, but I liked the way we moved the ball and we got ourselves to the free-throw line. This is another example of a good team win. We needed that."
Manhattan led by 10 points at 23-13 with 8:43 left in the first half after Alvarado drove to the tin and laid one in. A 3-pointer by Washington and a jumper by junior Jordan Heath got the Griffs within five points at 23-18 with 7:07 left before the break and moments later, Sosa hit two free-throws with 4:57 left to get the Griffs within three points at 25-22. Canisius closed the first half with the final six points scored with Jordan Heath, Baron and Sosa all scoring baskets to put the Blue and Gold up 28-25 at the half.
Canisius shot 48.9 percent from the field, 40 percent from 3-point land and 62.3 percent from the free-throw line in the win, while Manhattan shot 42.2 percent from the field, 37.5 percent from 3-point range and 76.2 percent from the charity stripe. Manhattan held a 30-25 advantage on the glass, but the Griffs were able to score 24 points off 17 Manahttan turnovers and the Blue and Gold turned seven offensive rebounds into nine second-chance points in the win. Jordan Heath had a career-high eight rebounds in the win for Canisius, which snapped a two-game losing streak to the Jaspers with the victory.
Alvarado and freshman Shane Richards were both good for 18 points in the loss for Manhattan, while Brown added 10 points, seven boards and three blocks.
Canisius will return to action Saturday, Jan. 19, when the team hosts Siena on Hall of Fame Day in the Koessler Athletic Center. Game time is set for 2 p.m. At halftime, Canisius will officially induct the 50th class in the College's Sports Hall of Fame, which features former Griff Darren Fenn, who played for Canisius from 1997-01.
 Game Notes: This was the 81st all-time meeting between these two programs, with Manhattan now leading 48-33… All of Jim Barons' career milestone wins (100, 200, 300 and 400) have come in home games… The Griffs improved to 9-3 this season when leading at the half… Sosa's 25 points left him one shy of tying his career-high, set Nov. 13, 2009 against Massachusetts… Sosa now has three or more 3-point field goals in 11 of the team's last 12 games… Washington's 12 points gives him double figures in the scoring column 38 times in his career as a Griff.