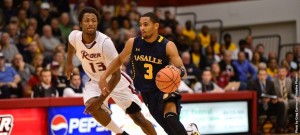 LAWRENCEVILLE, N.J.  – La Salle raced to a 24-6 lead after nine minutes and led wire-to-wire in a 63-52 victory at Rider on Thursday evening. Junior Tyreek Duren scored a game-high 20 points and dished six assists while senior Ramon Galloway scored 17 and added four steals.
There was no let-down for the Explorers after an exciting overtime Big 5 victory over Villanova on Sunday as their two leaders carried the team past a determined Rider team.
"We came out very hard," head coach Dr. John Giannini said. "I'm real pleased. I think our defense bothered them but they are a good team."
Duren, the Big 5 Player of the Week, was his steady self, shooting 6-for-6 from the field, including 2-for-2 from three-point range. His only misses came at the foul line, where he was 6-for-9.
"Great teams after a big win come back and get another big win," Duren said. "Everyone took that to heart."
Meanwhile, Galloway provided much of the pressure defense on Rider leading scorer Nurideen Lindsay, who was held to five points and committed five turnovers. Galloway shot 7-for-14 from the floor and committed only one turnover in 38 minutes.
No other Explorer reached double-figures with junior Sam Mills scoring eight with seven rebounds. Sophomore Jerrell Wright scored six and blocked four shots.
The Explorers (4-1) guards pressured Rider into five turnovers before the first media timeout and used a pair of three-pointers by Duren and one by Mills to go up 9-2 before three minutes had ticked away.
"We're just trying to get back to pressuring hard and playing as a team," Galloway said.
Galloway got into the scoring column with eight points in a span of two minutes and a junior Taylor Dunn three at the 11:10 mark stretched the advantage to 24-6.
The visitors led by as many as 18 several more times over the next few minutes before Rider (4-4) used a 9-2 run right before the break to produce a 34-23 halftime lead for La Salle.
The Broncs got the deficit into single digits midway through the half and trailed by six at 49-43 with 7:45 to play on two foul shots by Zedric Sadler.
But Galloway responded with a lay-up and three-pointer that stretched the lead back into double-figures and the Explorers never looked back in improving to 25-7 all-time against Rider. La Salle is also 8-2 in Lawrenceville.
Daniel Stewart and Anthony Myles each had 12 points for Rider.
La Salle hosts Penn State on Wednesday at the Palestra at 9 PM (note time change). The game will be televised nationally on the NBC Sports Network.
NOTES: La Salle is 4-0 this season when committing less turnovers than the opponent…The Explorers had 15 to Rider's 18…Daniel Stewart and Duren were teammates on the Neumann-Goretti team that won the 2010 state title…Mills, who at 39.8 minutes per game was second in the nation, played 39 on Thursday and saw his average go down.