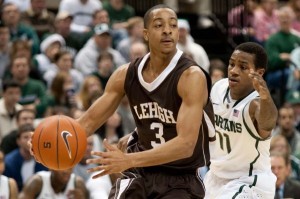 BETHLEHEM, Pa. – The Lehigh men's basketball team will receive its Patriot League Championship rings in a special halftime ceremony at Saturday's season-opening football game vs. Monmouth. Kickoff is set for 12:30 p.m. in Goodman Stadium. The Mountain Hawks are coming off a historic season, winning their second Patriot League Championship in the last three years.
Led by head coach Brett Reed, Lehigh finished the season with a 27-8 record, including11-3 in Patriot league play. The Mountain Hawks went on to win the Patriot League Tournament as the #2 seed, topping #7 seed Colgate in the quarterfinals and #3 American in the semifinals before beating host (and top seed) Bucknell in the championship game.
Lehigh than traveled to Greensboro, North Carolina in the NCAA Tournament as a 15 seed and notched one of the biggest upsets in the history of the tournament, knocking off #2 Seed Duke 75-70. The Mountain Hawks' tournament run would come to an end following a loss to #10 seed Xavier, but that wouldn't take away from the tremendous season the squad had.
The Duke win marked Lehigh's first-ever NCAA Tournament victory as the Mountain Hawks were only  the sixth 15 seed in tournament history to defeat a #2 seed, while becoming the first to lead their ensuing game at the half.
Like Lehigh Men's Basketball on Facebook and follow on Twitter for exclusive content, team updates and more.